A few weeks ago, a very nice man from POM Wonderful contacted me and asked whether he could send me a free case of pomegranate juice. That made me laugh. Then it made me think. If you'd spent most of your life feeling that you were an irredeemable screw-up in the kitchen, then you discovered that not only did you love to make jam but that you were pretty good at it, that would be surprising enough. But to find yourself saying to a corporate outreach guy, "Yes, I would be delighted to have a free case of pomegranate juice . . . " Well, you never do know what life is going to deliver to your doorstep, do you?
This is the first corporate offer I've accepted in conjunction with this blog. I said yes because I like the juice. It's good juice: 100% pomegranate juice from 100% California grown pomegranates. It's not diluted or sneaky sugary juice. Plus — Did you notice? — it's pomegranate season!
Perhaps because of the holidays, I knew immediately that I wanted to make pomegranate champagne jelly. Right now I want to put champagne in everything. And somehow the very idea of this jelly put me in mind of twinkly lights and favorite holiday music that sometimes, secretly, still makes me a little teary.
I tried this recipe three different ways. The one I liked best uses an old-school method; it contains boxed pectin. But at least it's Sure Jell Low-Sugar pectin
, so the jelly won't make your teeth hurt with an excess of sugar. I love the flavor — for me, it's just the right mix of sweet and fruit. (The other two attempts were not so good. One had an overcooked flavor and the other wasn't sweet enough.) The big (and pleasant) surprise was that the champagne in this version still tastes exactly like champagne.
The downside of this method is that, to me, the texture of jelly made with commercial pectin is a bit jell-o-esque, a lot like commercial jelly itself. I'd like it to be softer. The extra-firmness is not just a fault of Sure Jell. I've had the same experience with my usual favorite, Pomona's Pectin. So I will happily snarf and share this jelly, but next year I may get brave and attempt the method described by Kate at Hip Girl's Guide to Homemaking that uses finely sliced apples to get jellies to set. I need to do more research to get a sense of whether or not that will work, though, because pomegranates are on the very low end of the pectin scale.
Finally, while it's incredibly easy to make jelly using bottled juice, you can of course use real pomegranates, instead. If you have whole fruit, this brief post at eHow lists five different ways to juice a pomegranate.
Here we go, with many thanks to POM Wonderful for juicing me up!
Pomegranate Champagne Jelly
3 cups pomegranate juice
1 1/2 cups champagne
strained juice of 1 small lemon
3 cups sugar
1 package Sure Jell Low-Sugar pectin
1. Sterilize your jars.
2. Measure out the sugar. Place 1/4 cup of sugar in a separate bowl and thoroughly mix in the pectin powder, then set aside. ("Thoroughly" is the key. If you don't mix it well, you'll be chasing little lumps of pectin all around your pot. Also, make sure to keep both the sugar and pectin very dry. Moisture, too, will lead to lumps.)
3. Combine the pomegranate juice, champagne, and lemon juice in a large, nonreactive pot. Bring to a gentle boil over medium-low heat, then turn up the heat until the mixture reaches a hard boil. Add the sugar (that is, the portion without the pectin) and bring the mixture back to a hard rolling boil, stirring constantly.
4. Stir in the pectin-sugar and bring the mixture back to a hard roiling boil for exactly one minute, continuing to stir slowly and gently. (The jelly will foam up at this point, but it will settle right down when it comes off the heat.)
5. Remove the jelly from the heat. If you notice any pectin lumps, very quickly pour the piping hot jelly through a fine mesh strainer. (Can you tell I had a few little lumps? I'm not sure why they were there, but I knew I didn't want them in my jars.) Ladle or pour the jelly into your sterilized jars, leaving 1/4-inch head space.
6. Process in a water-bath canner, using the correct time for your altitude: 5 minutes for 0-1,000 feet above sea level, plus 1 minute for every additional 1,000 feet.
Yields 6 half-pint jars.*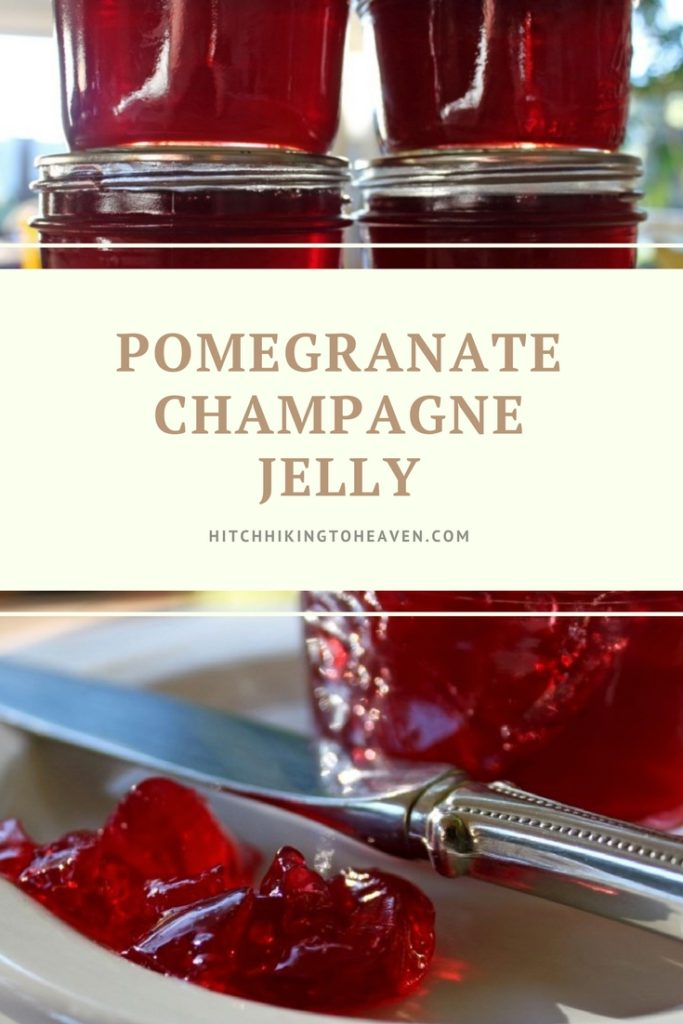 *Don't double up! As you'll see from the comments below, a very kind reader had some trouble when she attempted to increase the batch size of this jelly. This note is to remind you that if you want more jelly than a recipe yields, plan to make multiple small batches. As with most jelly recipes, doubling the batch size will mess with your set.