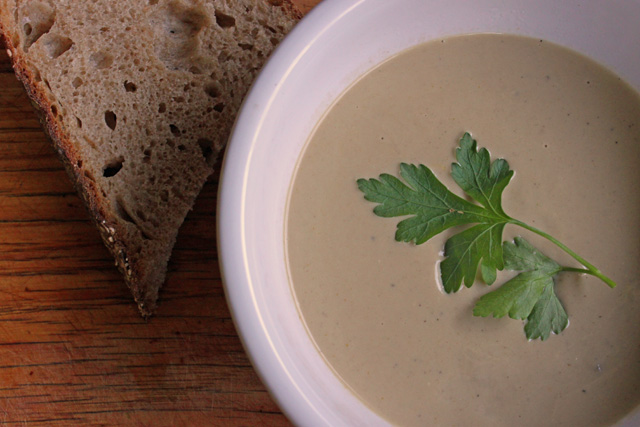 I feel great about starting my veggie challenge with the artichoke. Stewart didn't plan to begin at the top of the list when he chose my opening vegetable, but it turns out that there are very few items ahead of the artichoke in the Alphabet of Vegetables.  Only Amaranth and Anise, if you don't include varieties of other veggies, like "Acorn Squash." (I bet some of you already knew that Anise is not just an herb; it's a vegetable, too. That was news to me.) Also, I have a very brief artichoke anecdote:
When I was a kid, I insisted that you were supposed to eat the spiny end of the artichoke leaf. I clung to this position for years — the benefit being that I could use the leaf as a simple but effective mayonnaise delivery system, without having to consume any actual vegetable matter. Of course I wouldn't touch the artichoke hearts. My parents still tease me about it.
So you see why I need this challenge.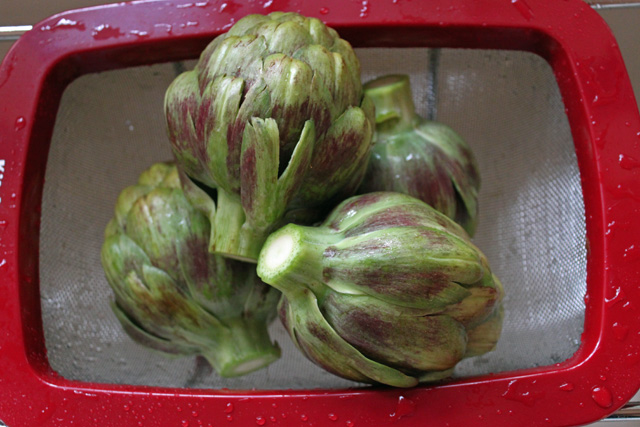 We recently had friends staying with us, so I seized the opportunity to feed them and knock off my challenge at the same time. Because cooking for other people still makes me nervous and because it's still winter, I headed for the most reliable of comfort foods — good soup. At first I had intended to make a hearty soup — a meal-in-a-soup — but this is not that. This is a rich, accent soup. The recipe makes only about four cups, which means small servings for a few friends. And really, when you consider the rich ingredients, small servings are appropriate. Butter, half and half, white wine . . .
This is a really good soup. Our friends pronounced it so (in a believable manner), which means my veggie challenge is off to an excellent start. We served this artichoke soup with a roasted chicken (bought ready-made from a fancy store at the last minute because I realized this wasn't going to be a meal-in-a-soup), a great big green salad, and a dark, crusty sourdough bread.
Thank you, artichokes!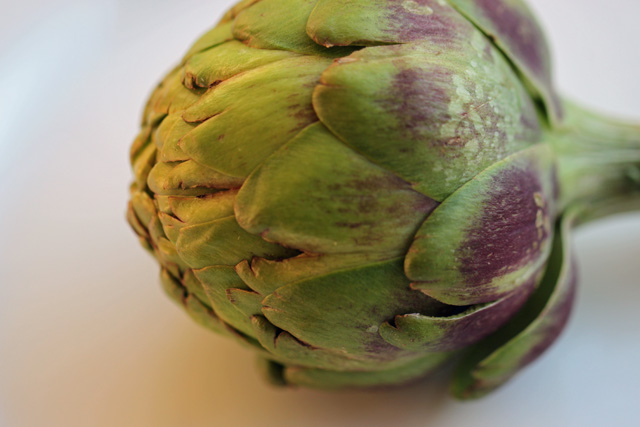 January Artichoke Soup
1/2 white or yellow onion, chopped
2 large garlic cloves, minced
1 tablespoon olive oil
4 medium artichokes
3 cups broth (I used organic vegetable broth from a box), plus more as needed
1 tablespoon freshly squeezed lemon juice
4 3-inch sprigs fresh oregano
1 teaspoon freshly ground black pepper
2 tablespoons butter
4 green onions, chopped (white parts only)
10 large mushrooms, diced
1/4 cup cream of mushroom soup (concentrated)
1 cup half-and-half
1/2 teaspoon salt
1/2 cup dry white wine
garnish of choice (you might want to reserve a little bit of artichoke heart for this, or use a bit of parsley, or just let your soup go naked)
1. In a large saucepot, sauté all of the onion and half of the garlic in the olive oil until the onions are translucent.
2. Wash the artichokes and add them to the pot, along with the broth, lemon juice, oregano sprigs, and black pepper. Bring the liquid to a simmer and cook, covered, until the artichokes are tender. This will take about 40 minutes. During this time, check the broth periodically and add more if there's significant evaporation.
3. When the artichokes are done, remove them and give them time to cool down so you can handle them. Strain and set aside the broth. Discard the oregano sprigs and put the onions into a food processor. (I used a VitaMix.) While your chokes are continuing to cool, you can chop the green onions and mushrooms.
4. After the artichokes cool, scrape the edible portions of the leaves into the food processor. (To scrape the leaves, I used a serrated grapefruit spoon. It's amazing how many alternate uses I can find for those things. I love them.) Compost what's left of the leaves and then dice the artichoke hearts, adding them to the food processor.
5. Heat the butter in a saucepan and sauté the rest of the garlic, along with the green onions and mushrooms, for 3 minutes. This should be enough time for the mushrooms to release their juices.
6. Add the mushroom mix to the food processor, along with 1 cup of the reserved broth. Puree.
7. In the large saucepot, combine the puree with the mushroom soup and the remaining broth. (If there's not much broth remaining from the simmering process, you might want to add a little extra from whatever broth source you started with.) Heat this mixture, stirring it until it is smooth. Then add the cream and the salt. Adjust the seasonings to your taste.
8. Just before you serve the soup, stir in the white wine. Then dish it up and add garnish, if you like.
Yields about 4 cups
What do you do with leftover broth? This may seem beyond obvious to you, but I was thrilled when I learned about freezing leftover broth in ice cube trays and storing them in a labeled freezer baggie. No more broth going bad in the fridge!