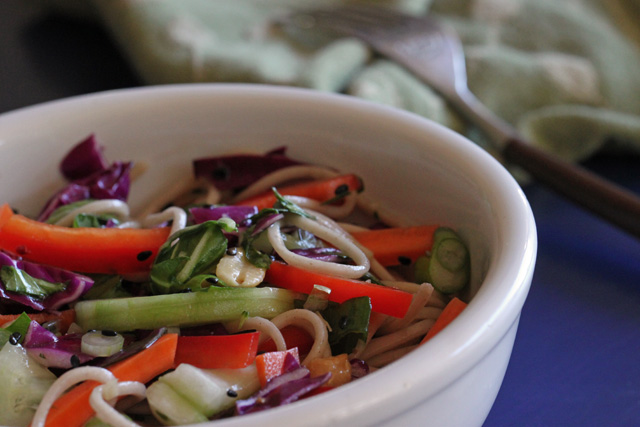 When I began my monthly veggie challenge, I didn't plan to make it alphabetical. But as soon as Stewart brought home January's artichoke, the idea took stubborn root. So now we have month two, brought to you by the vegetable letter B. And I get to look forward to not just one, but more than two years of veggies. (Some of the letters, like the letter "I," don't have obvious choices unless I go for varieties of the underlying veggie, like Iceberg lettuce. I'll figure out that one in September.)
One of the reasons I was particularly glad to get Bok Choy (or Pak Choy or Pak Choi) for this month's challenge is that it's something that I can easily grow — and sometimes I do. That's a goofy thing: I like to grow veggies, but then I don't particularly care to eat them (tomatoes, peppers, and lettuces are distinct exceptions). So I am getting my act together.
This month, I felt a little bit like I was cheating because I made something that I liked so much. I don't know why I thought I should suffer for this challenge, like I wasn't doing it right if I didn't make a plate of steaming hot bok choy, which just didn't sound good to me at all. With the exception of a warm spinach salad, I can't think of when I've been happy to meet a plate of limp (or even limp-ish) greens. Stewart does get me to eat steamed or braised greens somewhat regularly, but then he puts me over the edge by making extra and eating them the next day. I can't handle that. But this noodle salad? I would like more, please! There was plenty enough for leftovers so I got to keep eating it for several days.
There are so many ways to make a salad like this. For inspiration, I began with Kaela's So What? Soba Noodles at Local Kitchen. Then I checked out the Sesame Soba Noodle Salad that she recommended at The Kitchen Sink. Finally, I took a good look at a recipe I've made many times before — one of my very favorites — Cucumber Noodles for Two at Chez Danisse. (It features caramelized onions. It's astonishingly good. You should make it.) I mixed up all the parts of these recipes that sounded good to me and added a couple of other things, too.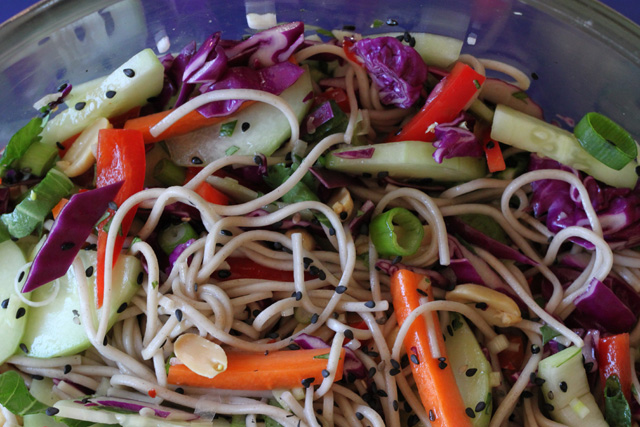 Soba Noodle Salad with Bok Choy
Salad
6 ounces soba noodles, cooked according to package directions, drained, and rinsed
2 cups shredded bok choy
2 cups shredded red cabbage
2 medium carrots, julienned or thinly sliced
1 medium cucumber, peeled, cut in half lengthwise, and thinly sliced
1 red pepper, thinly sliced
1 cup green onion, white and green parts, thinly sliced
1/4 cup green garlic (also called spring garlic), thinly sliced
1/2 cup cilantro, roughly chopped
2 thumbs fresh ginger, minced
1 tablespoon black sesame seeds
1 handful peanuts (raw or roasted)
Dressing
1/2 cup seasoned rice vinegar
2 tablespoons fish sauce
3 pinches red chile flakes
1 tablespoon sesame oil
juice of 1 lime
Combine the ingredients for the dressing in a little jar and shake them up. Taste the dressing and adjust it in any way you like. In a large bowl, combine the ingredients for the salad. Add the dressing and toss well. Serve at room temperature or chilled. I sprinkled some extra sesame seeds, cilantro, and peanuts on top for garnish. I also like to add grilled chicken or shrimp to salads like this.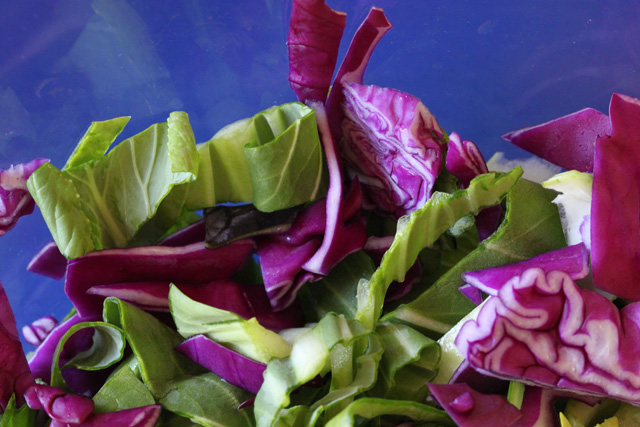 One last thing: I had no idea what it meant to "shred" the bok choy and cabbage. Was I supposed to use my hands or what? But there is a video for almost everything. If you're as clueless as I was, take a look at this quick, clear video from 5min life of a guy shredding cabbage.