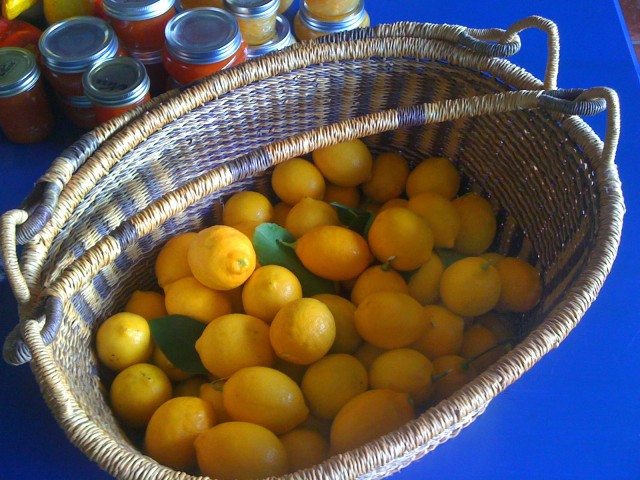 This is a basket of Meyer lemons that I boosted from some tree last year. It might have been the tree in front of the foreclosed house near the town library, or they might have come from my favorite tree on an unfenced lot in Berkeley. This year's harvest is coming in smaller and slower, but I'm not deprived — and I don't have to be so sneaky, either. Since word has gotten out about my passion for Meyer Lemon Marmalade, I have folks offering me more lemons than I know what to do with, in exchange for eight ounces of sunshine in a jar. It's a happy situation.
I know I've hooted plenty about how my Meyer Lemon Marmalade won best in show at the county fair last year and blah, blah, blah. (Though this is the first time I'll tell you that I'm thinking of taking it to the state fair this year, just to see what happens.) However, because it's Meyer season and these little lovelies are rolling all over kitchen countertops in California, Texas, and the homes of enthusiasts who order them from afar, I thought I'd post a reminder that I've got this fine recipe and a handful of other winners in my eBook. In celebration of the season, I've set up a discount code to give you $2 off the purchase price through March 7, so it'll cost you just $7.95.  To get the discount, enter the code MEYERLOVE when you pop over to the eBook page. [Update September 2013: Sorry, this eBook is no longer available! For a good Meyer Lemon Marmalade recipe, see Double Meyer Marmalade. If you like it plain, just leave out the rum!]
Want to know a couple of great things to do with Meyer Lemon Marmalade after you make it — besides spooning it right from the jar to your  mouth? Check out Kate's Meyer Lemon Cakes at The Hip Girl's Guide to Homemaking. I'm so pleased that she made the marm on top using my recipe and if I could chomp this right off my computer screen, you know I would.
Same goes for this Meyer Lemon Marmalade Shortbread at What Julia Ate. The lemons you see below somehow made it in a box sent from my kitchen all the way to Julia's in New York. She improvised her marmalade using my recipe, too. (Julia is one of the best improvisers I know. Sometimes she will even break into song. The other night when we were talking on the phone, I heard her do it.) While you're visiting her blog, you might want to consider the possibilities of her Marmalade Quick Bread, too.
MEYERLOVE. Yay! Enjoy them while they last.