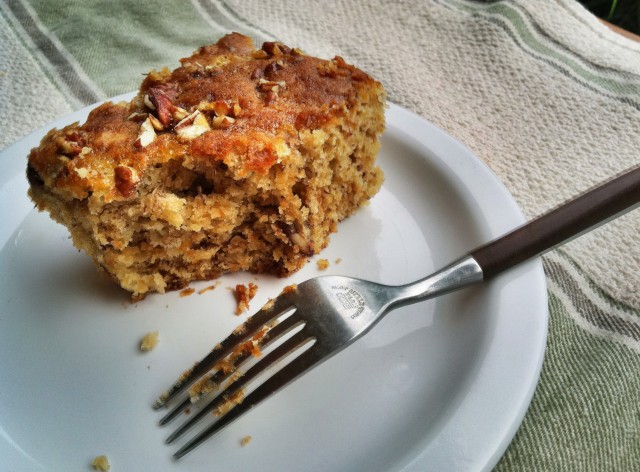 In my post on making sugar-free jam, I mentioned that I am able to easily metabolize large quantities of sugar. The same does not go for flour. I'm not gluten intolerant to the degree of many folks I know, but there's no doubt I do better without it.
There's also this: You would see a lot more baked goods on this blog if I had the power to stop eating them after I start. Most of us have something it's just not safe to have around the kitchen, right? For Stewart, it's ice cream. For my mom, it's salty snacks. For me, it's baked goods all the way. Give me one cookie and you may as well give me twenty. The more flour and sugar a baked good contains, the more likely I'm going to behave like a lab rat with Cap'n Crunch. (I'm sure you've heard about those studies. Rats are powerfully swayed by sweet stuff.)
My idea about this cake, which is based on a recipe for gluten-free banana bread that I found on Taste of Home, was that (1) it would be a good way to use up my rotting bananas and, (2)  it might turn out okay but not that good — so I wouldn't want to overdo it, right? Sigh. Not so. It turned out way better than it had a right to, considering the extent to which I messed with it, and I'm going to go and put half of it in the freezer right now to keep my little rodent paws off of it.
Mostly what you need to make this cake is rice flour, eggs, bananas, and a half-cup of jam. I chose apricot amaretto jam and I'm glad I did.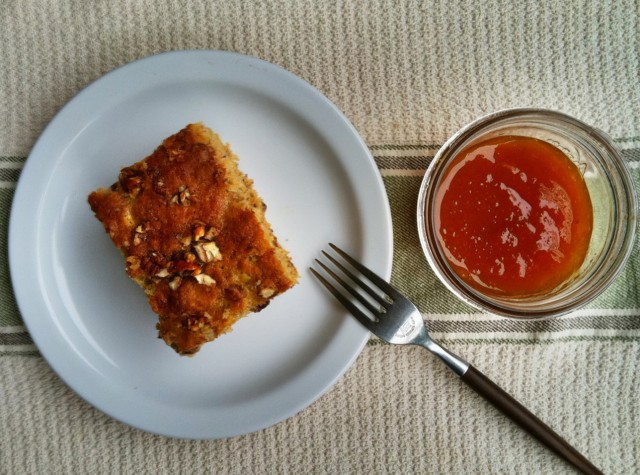 Gluten-Free Bananacot Cake
2 cups Bob's Red Mill Brown Rice Flour
1 teaspoon baking soda
1/4 teaspoon salt
4 eggs
2 cups mashed ripe bananas (about 4 large)
1 cup sugar
1/2 cup apricot jam — or any jam you like (a soft jam is best)
1/3 cup canola oil (I actually used sunflower, and it worked fine)
1 teaspoon vanilla extract
1/2 cup chopped pecans
1. Preheat the oven to 350F
2. In a large bowl, combine the rice flour, baking soda, and salt. Set aside.
3. In a separate bowl, whisk together the eggs, mashed bananas, sugar, jam, oil, and vanilla. Fold in most of the pecans, reserving a small handful to dress the top of the cake.
4. Stir the wet stuff into the dry ingredients, only until thoroughly moistened. The batter should be lumpy.
5. Pour the batter into a greased baking dish (mine's 8 x 11.5 inches) and sprinkle the rest of the nuts over the top. (The original recipe called for pouring the batter into two loaf pans, so you could probably do that if you prefer. I didn't have two loaf pans — just one — so I took this cake-llike approach, which worked great. Also, I forgot to grease my baking dish and it was still great; there's a lot of moisture in this cake.)
6. Bake 45-55 minutes, until a skewer inserted in the center comes out clean.
Let it cool & eat it up!
P.S. This isn't the first time I've done something like this. For a similar, but gluten-full, take on banana-jam bread, see my Banana Berry Jam Bread guest post from last November at Food In Jars.