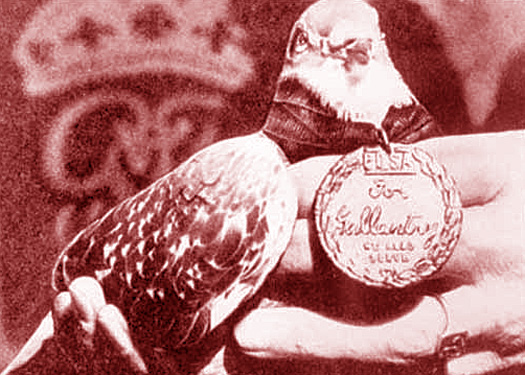 Okay, so it's not an official national holiday. Banks and government offices are open. But if the New York Bird Club had succeeded in its efforts, this would be a day to formally honor the heroism and dedication of our friend, the pigeon. Here's an excerpt from the club's 2009 letter to President Obama:
We propose the date of June 13th as National Pigeon Day. June 13th was the anniversary of the death of Cher Ami, the most famous and legendary of the carrier pigeons of wartime. Cher Ami was a pigeon in World War I who, on October 4, 1918, flew 25 miles in 25 minutes — despite being horribly wounded — to deliver a message that saved 200 American soldiers in Europe, who were fighting to help the French allies. The French government awarded Cher Ami their highest honor — the Croix de Guerre. The bird was patched up and tended by medics and General John J. Pershing himself saw the pigeon off when he departed Europe for home. At the time, Cher Ami's story became one of the most famous wartime hero stories.
Congress may have failed to act, but at least the New York Times took note and pij-positive events have been held on this day for the past several years. In my view, every day is a fine day to celebrate pigeons — a noble bird that humans often use for their own purposes, but rarely appreciate. Yuzu and Quince, who have not yet been decorated by the military but have lately gone along to work with Elizabeth at a few adoption events, may get some extra safflower seeds — a pigeon favorite — in honor of the day.
They're big, confident birds now. And they still love to eat their salad  . . .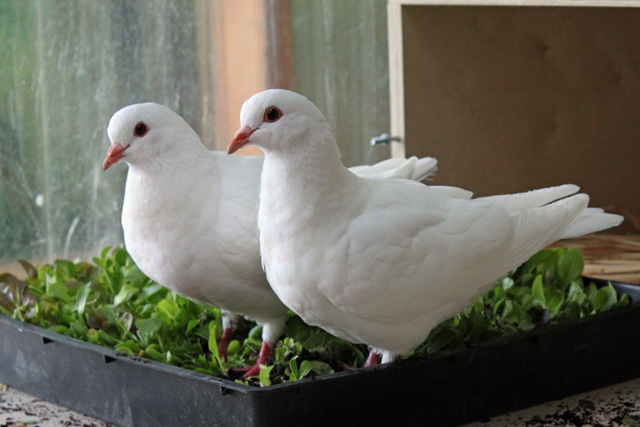 Yuzu is definitely a boy. He struts and spins and fans his tail, aggressively courting Quince, who is either a very big hen (as was my Luna) or a male who is content to take a less dominant role in their partnership. It would be funny if our initial assumptions about their genders turned out to be perfectly backwards. It's looking that way, but we won't know for sure until someone — or no one — lays an egg. (We don't intend to breed them, remember. If Quince does surprise us by laying eggs, we will replace them with fake ones to give them something to sit on for a while.)
Now, on behalf of the pigeons — because it's their day and all — I would like to ask you to save some abandoned domestic pigeons and doves with a very simple action. It will take only a few minutes of your time and it won't cost a penny. Here's what's happening:
MickaCoo Pigeon and Dove Rescue is in the running to win a much needed $25K grant from the Pepsi Refresh Project. They need just enough votes to land in the top 15 projects. Currently, the pigeons are placing around 3oth out of 150 entries — so a win is definitely possible if we all stand up for the birds.
MickaCoo is a wonderful organization. Over the past several years, it has placed several hundred unreleasable domestic pigeons and doves in safe forever homes. That's how Yuzu and Quince came to me. Sometimes it makes me feel helpless, knowing there are hundreds more just like them that MickaCoo is working to place, with more arriving all the time. (Here's a news story from just this week about 200 domestic pigeons dumped in a Sacramento park by a breeder who decided he wasn't willing to care for them any longer.) If not for MickaCoo, Yuzu, Quince, and many other pigeons and doves would have suffered ugly deaths or been euthanized at animal shelters.
Of course, there are plenty of good things that could be done with $25K and thousands of worthy causes that could use this money wisely and well. Pepsi is giving away millions of dollars as part of its Refresh Project, and you can vote for more than one idea — but they've made this $25K available for the birds and the birds really do need it. There are lots of grants available to rescue organizations for dogs and cats, but domestic birds have very few options.
Here's how you can vote. It's easy!
Click here every day in the month of June. (You will have to sign in through Facebook or through Pepsi, but don't you have one of those sketchy email addresses you use for online shopping or other times you don't want to get spammed? I do and I used it, but I've checked and Pepsi hasn't sent me any junk as a result of my voting.)
If you have a smart phone, text the message 106711 to the number 73774 from your mobile phone. You can also do this every day during the month of June. (You'll get a confirmation text from Pepsi but they won't start pinging you with other unwanted messages. Regular texting charges apply.)
If you're willing to receive a daily reminder email about voting, please leave a comment saying so and I will add you to MickaCoo's vote-reminder list. (You won't be bothered after June 30.) And if you stumble across a Pepsi bottle cap or box that contains a "Power Vote" code, please use it to vote or send it my way so I can garner extra votes for the birds.
Personally, I think Quince and Yuzu are looking at this Pepsi bottle like, "What the eff is this thing? And why do we have to stand here in these stupid pants?" But if they knew what the makers of that bottle could do for their kind this month, I'm sure they'd be voting every day, too. Thanks for helping them out and have a good Pigeon Day.