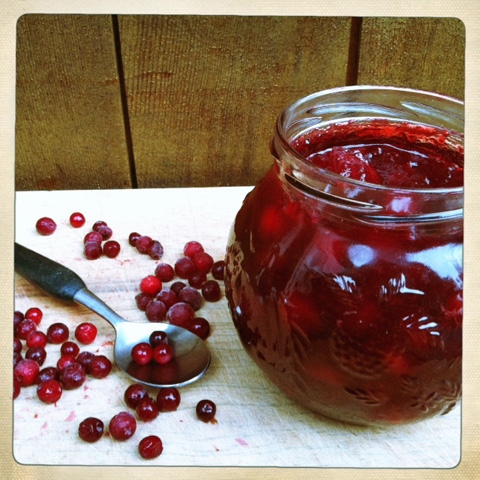 What's in your pantry, people? Do you still have marmalade that you made last winter?
I do.
Around here, the marmalade eating can't possibly keep up with the marmalade making, so I need lots of ideas for using up what's left over from one season to the next. Because the holiday gears are starting to turn, I thought I'd use some of my Alaskan lowbush cranberries (a.k.a. lingonberries) to make a nice cranberry relish with a marmalade mix-in. I chose a jar of Meyer Lemon-Rangpur Lime marmalade from a batch that tastes great but set too soft. I also added some chopped Honeycrisp apples, because they happened to be sitting on the counter and they looked right for the job.
I wrote out the instructions for what I did, below, but I think there are a ton of ways to make something like this and you should experiment with whatever kinds of cranberries and marmalade you have or can get. (Case in point: For a lovely, simple version using a marmalade that set a bit too firm, check out Kaela's cranberry marmalade sauce.) Keep what you make in the fridge, or freeze it and use it up pretty soon, because it's not a good idea to open a jar of last year's preserves and re-can them for another year.
Finally, if cranberry marmalade relish doesn't make your skirt fly up, I got lots of help putting together a roundup of great links to other things you can do with marmalade — so read on!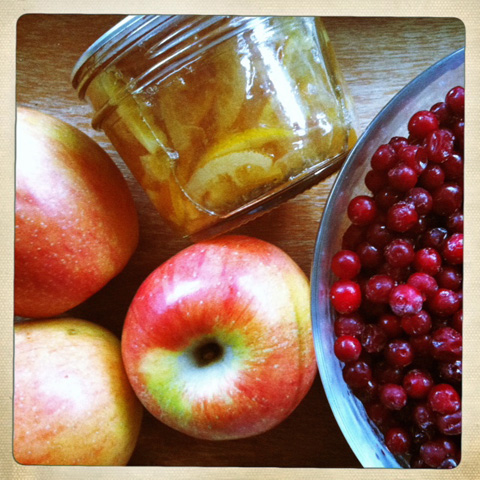 Lowbush Cranberry Marmalade Relish
3 cups lowbush cranberries (lingonberries)
4 small apples, peeled, cored, and chopped into 1-inch pieces (I used Honeycrisp)
1/2 cup water
1 cup marmalade of choice (I used Meyer Lemon-Rangpur Lime)
3/4 cup sugar (or to taste)
In a 4-quart nonreactive saucepan, combine the cranberries, apple pieces, and water. Simmer until the berries pop and the apples soften, about 10 minutes. Stir in the marmalade and sugar, return the mixture to a boil, reduce the heat, and simmer 3-5 minutes more, until the mixture has thickened somewhat and the bubbles have settled and become shiny. Remove the mixture from the heat and skim foam if necessary. Allow the relish to cool to room temperature and transfer to jar or other container for fridge or freezer.
Makes about 4 cups.
Now, here's a long list of other ways you can get ready for this year's citrus-fest by using up your older jars of marmalade. For so many great ideas, I thank the recipe creators and friends on the H2H Facebook page who shared their favorite ways to take marmalade beyond toast.
You can also take a look at the discussion on Facebook for more tips, like Dierdre's suggestion to use a spoonful of marmalade to deglaze the pan after cooking pork (that one made my mouth water) or Diana's recipe for jam cake, which she generously typed out right there on the page. If you've got a suggestion to add, please do leave a comment here.
It's almost Thanksgiving, and I am definitely feeling the love for my fellow fruit preservers!