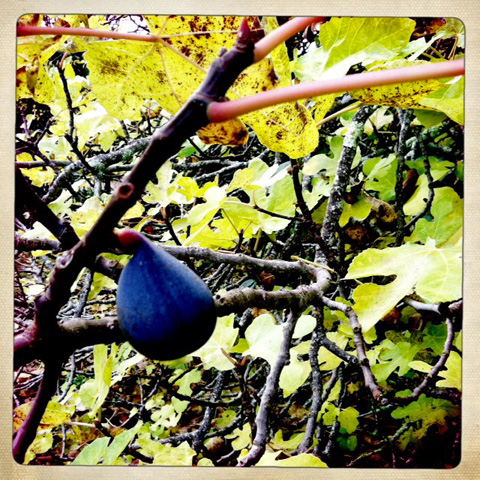 I've spent the past few weeks staring at a fig.
It's just a fig.
But it had something to say to me — and so did the stately tree that it came from. (If I could show you something for scale, you would see that this tree is taller than a very tall house. It's the biggest fig tree I've ever seen, and it has several companions of almost equal size.) The fig reminded me of a story.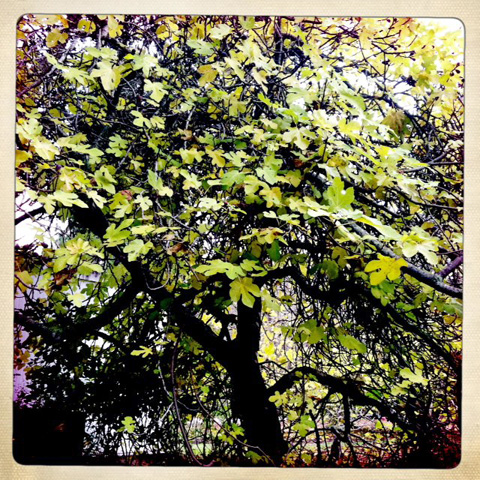 A long time ago, a passel of Mediterranean immigrants — Italian, Spanish, and Portuguese — decided that Northern California looked like a good place to start a new life. That's why the black-purple fig is here. And that's why I have black-brown eyes.
My Portuguese great-great-great grandfather, Frank, came to California on a whaling ship in the 1860s. It's a romantic tale because, after deciding he liked it here, he sailed all the way back around Cape Horn to the Azores to claim his forbidden love, Izabel, who was a servant in his family's home. She was already pregnant with my great-great-grandmother on the long ocean voyage back to California. I feel queasy just thinking about it.
My Portuguese family, if I understand correctly, were working class, agricultural folk; they were blacksmiths, seamstresses, merchants, orchardists. Among other things, they grew prune plums in Hayward, a bustling farm community that had an enormous canning factory. The following photo was taken in 1920, when some of the women would have been my great-grandmother's age.
As far as we know, Nonnie never worked at the cannery. She was, however, crowned the queen of the Hayward Farm Products Show in 1914. Here she is — but who's that dude? We don't know.
She's in the center of this photo at the back, surrounded by her "court." (Whoever labeled the photo certainly misspelled her name, but does that also say "Qween"?)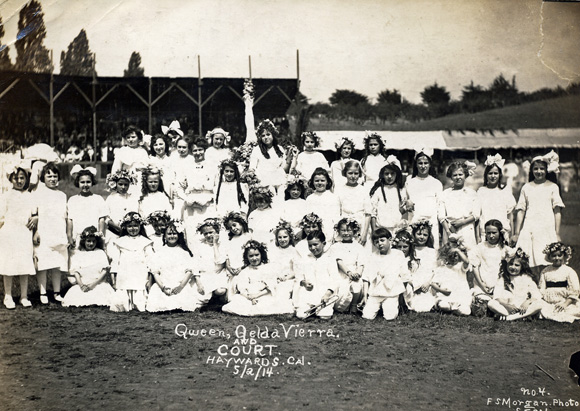 My mom and I have been debating whether Nonnie's official title was "Prune Queen" or "Pickle Queen." I've always thought "prune," while my mother leans toward "pickle." We have some research ahead of us, but the next photo may be evidence in my mother's favor. It's a picture of the Pacific Vinegar and Pickle Works, which was also located in Hayward at the time.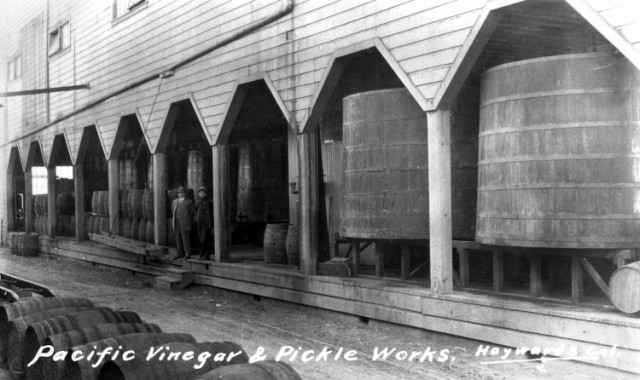 People who have known me during other phases of my life are uniformly amused when they hear about my passion for fruit and canning. They wouldn't have thought I was the type. I wouldn't have thought so, either. I grew up with little knowledge of my family's agricultural roots, and I would never, ever have imagined there would come a day when I'd be knocking on doors, asking to visit my neighbors' . . . trees? Or when I would secretly dream of planting an orchard of my own. But when I'm close to a great, fruit-bearing being like the old Mediterranean fig tree, I feel something undeniably familiar.
That fig was probably my cousin.
And now I've eaten it.
It was actually a poor season for Black Mission figs this year, and much of the fruit was still green at Thanksgiving. But those grandfather trees came through with one, much-appreciated box. Some of these figs were roasted with prosciutto as a Thanksgiving appetizer. Some of them went into an attempted figgy pudding that we're not even going to discuss here. (There are so many reasons why mine is not a blog about baking.) The rest made a lovely small batch jam with candied ginger and vanilla bean.
Black Mission figs can vary tremendously in quality. For jam, you want them to be ripe — but not overly so. Ideally, they will be sweet and rich to the point of lusciousness. Taste before you bring them home.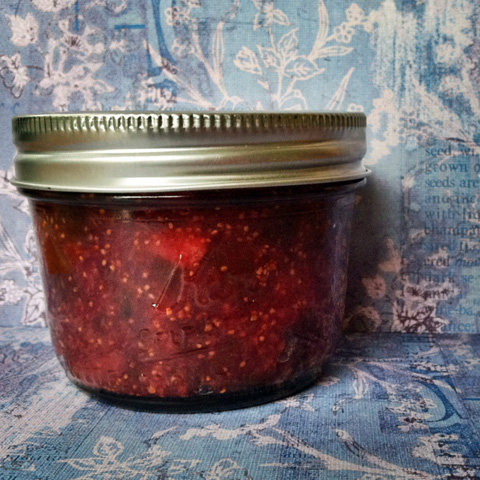 Black Mission Fig Jam with Candied Ginger and Vanilla Bean

2 3/4 pounds ripe black mission figs
3 cups sugar
1 vanilla bean
3 ounces lemon juice
4 ounces candied ginger, finely chopped
1 tablespoon Grand Marnier (optional)
Day One: Prepare the Figs
1. Wash and stem the figs, then chop them roughly and put them into a large, nonreactive pot so that they form a double layer. Add a little bit of water — about 1/2 inch — to the bottom of the pot. Bring to a simmer and cover. Continue to simmer, stirring occasionally to prevent sticking, for about 20 minutes or until the figs are tender.
2. Remove the figs from the heat and transfer 1/2 of the mixture (figs and liquid) to a Vitamix, blender, or food processor. Puree the transferred figs, but do not liquefy them; they should still be slightly chunky.
3. Measure the sugar into a bowl. Split the vanilla bean lengthwise and, using your thumbnail, scrape the seeds from the bean into the sugar. Mix well, then toss the pod into the sugar, too.
4. Combine the cooked figs, pureed figs, sugar with vanilla bean, and lemon juice in a large glass or ceramic bowl. Cover the bowl tightly, place it in the fridge, and let it rest 8-12 hours, or overnight.
Day Two: Make the Jam
1. Sterilize your jars and put five metal teaspoons in the freezer to test the jam for doneness later.
2. Take the fig mixture from the fridge and transfer it to a large jam pan. (I used an 11-quart copper pan.) Stir in the candied ginger.
3. Turn the heat to high and bring the mixture to a boil, stirring occasionally. Then decrease the heat to a steady simmer and cook, continuing to stir as necessary to prevent sticking. After about 10 minutes have passed, mash the fruit with a potato masher. Continue to cook until the jam thickens, reducing the heat a bit if the jam starts to stick. My jam was done in about 16 minutes.

To test your jam for doneness: Remove the pan from the heat. Use one of your frozen spoons to scoop up a little bit of jam — not a whole spoonful, more like half. Return the spoon to the freezer and wait 3 minutes. Retrieve the spoon and hold it vertically. If the mixture runs very slowly and moves mostly as a whole, it's done. To confirm, give it a push with your finger. It should be thick and jammy. If it's watery, it needs more time. Cook for 2 more minutes, stirring gently, and test again. Repeat as needed.
4. Stir the Grand Marnier into the hot jam. Ladle or pour the jam into the sterilized jars, leaving 1/4-inch headspace. Run a silicone spatula or chopstick around the insides of the jars to release any air bubbles and wipe the rims of the jars clean. Add lids and process 10 minutes in a boiling water-bath canner.
Makes about 6 1/2 half-pint jars