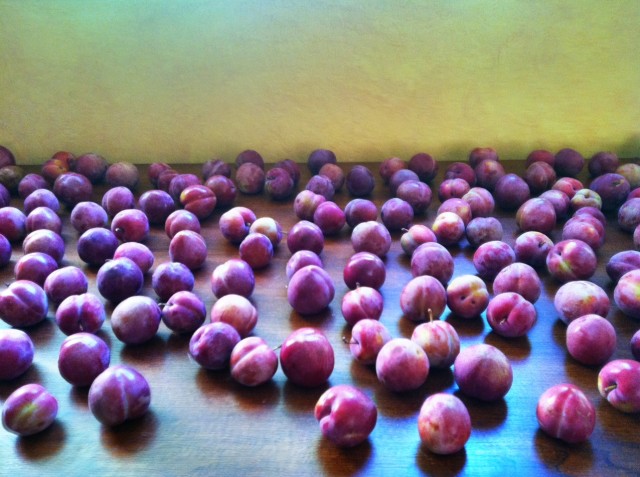 In 2011, I had a goal that I never said out loud. I wanted to return to the reason I first started preserving, which was to make good use of the fruit around me — homegrown or wild — that might otherwise go to waste. I'd strayed from that purpose in 2010, when I started blogging about jam and preserves. I was so caught up in the excitement of it all that I spent an awful lot of time and money on market produce. I had a great time and learned a ton, but in the end I felt I'd gotten a bit carried away from my original love for the gleaned and foraged.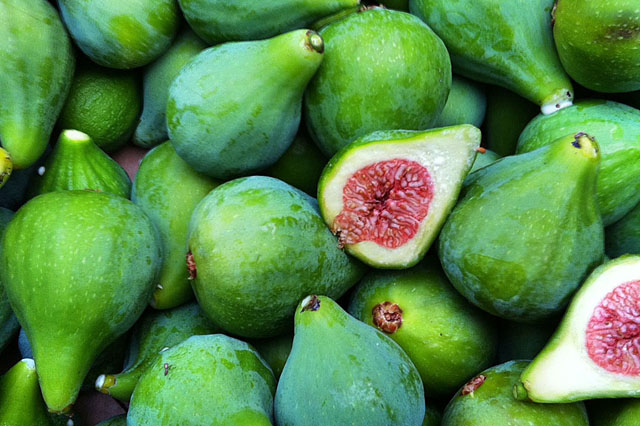 I'm not rigid about my ongoing intention to make mostly homegrown preserves. For example, I'm just not willing to give up jams made from grapefruits, strawberries, good apricots, or raspberries — and I don't have homegrown sources for those —  so I'll keep right on buying them. But I do want the entries in the first three columns below to significantly outweigh those in the fourth column, and I'm glad to see that last year they did.
I plan to keep the same kind of record for 2012. This time, I'm going make my notes as the year progresses and keep track of dollars spent, as well.
A rough list of what rolled across my kitchen counter in 2011.
(I'm sure I forgot something!)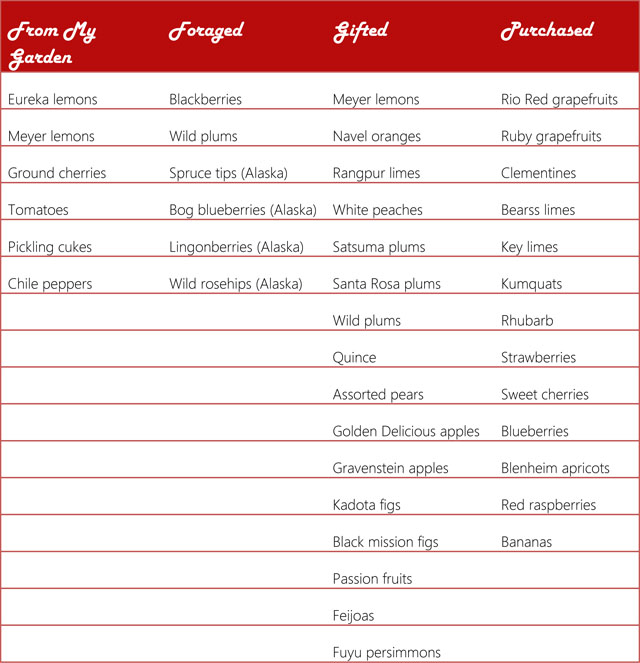 This is a good time to express my gratitude to the people who gave me so much beautiful fruit in 2011: Jen & Mark, Em & Luan, Annie & Richard, Patti, Mom & Jay, Fran, Bridget, Suzanne, Yaniv, Christine, the kind folks who participated in the Marin Open Garden Exchanges, and perhaps above all my neighbor, Joanne, who provided me with at least six of the fruits on the "gifted" list, not to mention a steady supply of eggs from her chickens and ducks. Not everyone gets to live in a place where nature and neighbors constantly provide them with this kind of bounty. I am blessed!