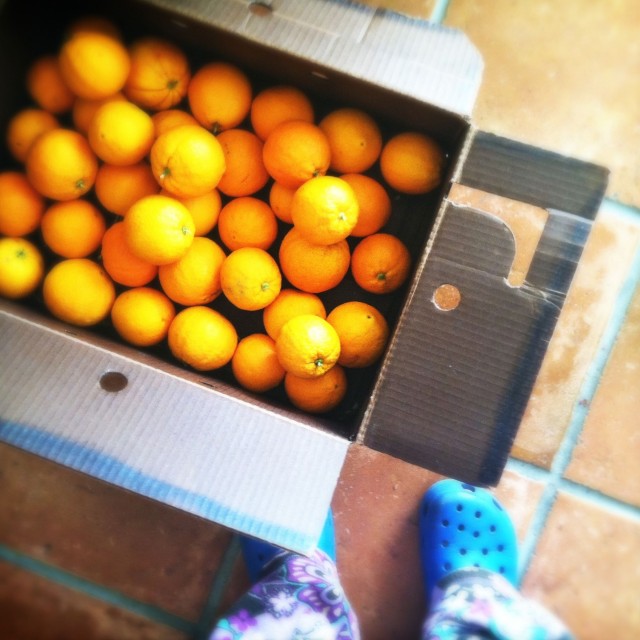 So I got some oranges. About eighty pounds in all. This sweet bounty comes to me each spring, courtesy of my neighbor's enormous navel orange tree, which you can see in a post from last year. That post was all about learning to preserve orange slices in syrup. This year's experiment leaves out the slices and focuses on the syrup by itself — which is both easier and more practical, in my view. Plus, I am still hopelessly dialed in to the homemade-soda-syrup channel. I want to make syrup out of everything, so I hope you'll bear with my obsession until it runs its course.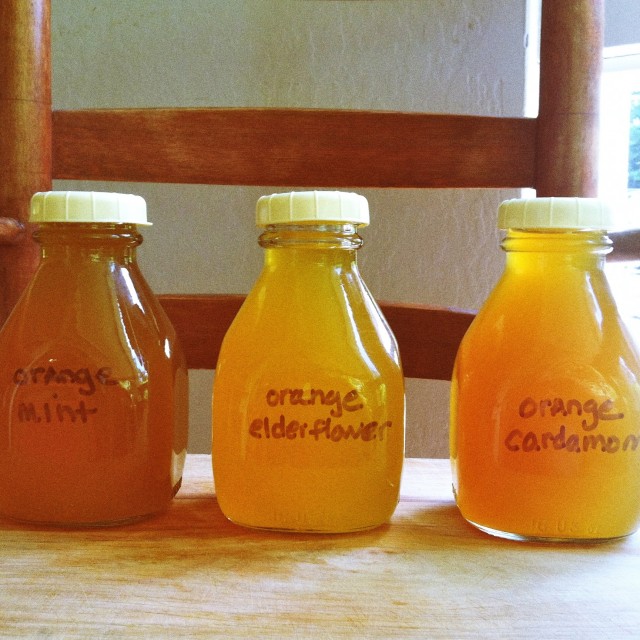 Below, you'll find a recipe for simple orange syrup, plus three variations: orange mint, orange cardamom, and orange elderflower. It's tough to hopelessly screw up a syrup. You can, however, make them better or worse. My first attempt at basic orange syrup relied on a recipe in one of the preserving books I have here at home, and it didn't turn out at all well. (To be honest, when I read the recipe I was pretty sure it wouldn't work, but I waded in anyway. I wanted to believe.) That syrup was too thin and too tart. I got better results using the method described in a Gilt Taste article [Update 2016: Sorry, the article is no longer linked because Gilt Taste no longer exists and I couldn't find another source], making a few tweaks to suit my taste.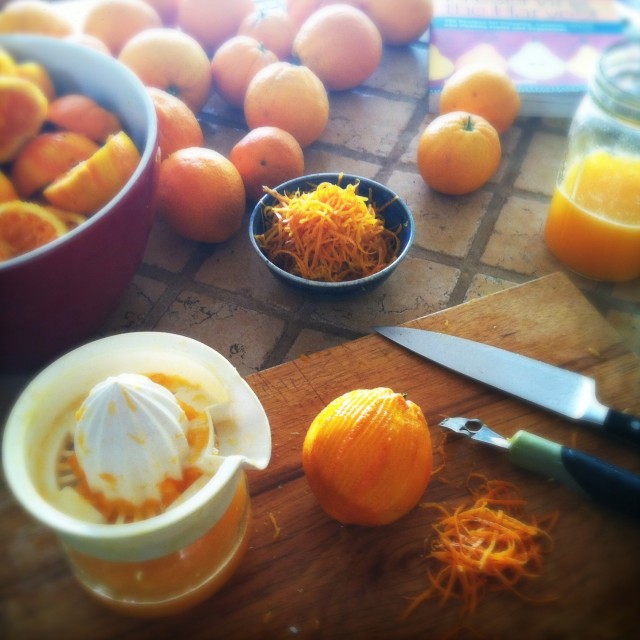 Oh! Here's a diversion . . .
See that tiny hand-juicer in the photo above? Not recommended for juicing eighty pounds of oranges. It was the only option I had, until I borrowed a commercial citrus press from a friend. Having the right tool for the job makes all the difference, particularly when it comes to repetitive stress injuries. I was amazed, too, by the difference in the amount of juice extracted from each orange. The press really smashes them flat, and fast!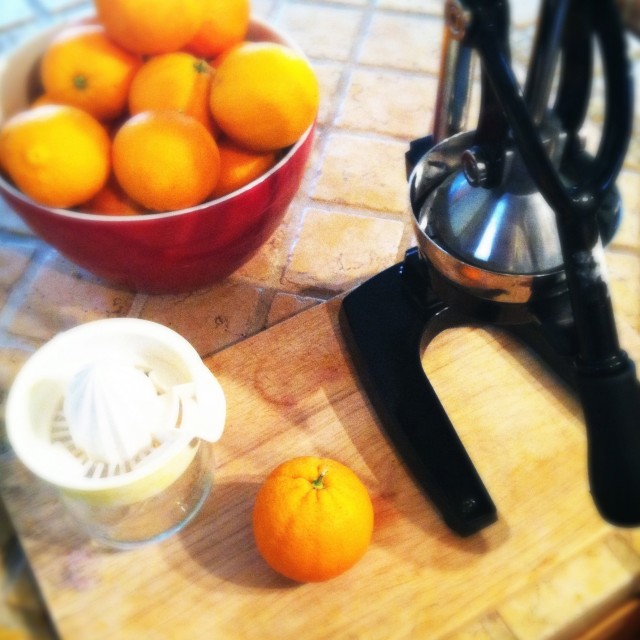 Anyway. There are so many kinds of orange syrup to make. I chose my variations based on what I had on hand, including these three big bags of dried, edible flowers that were recently gifted to me. (Was that a luck out or what? These aren't just any old flowers. They are organic elderflowers, rose petals, and jasmine blossoms from Mountain Rose Herbs. My chef friend didn't have an immediate use for them, so now I have to figure out a few.)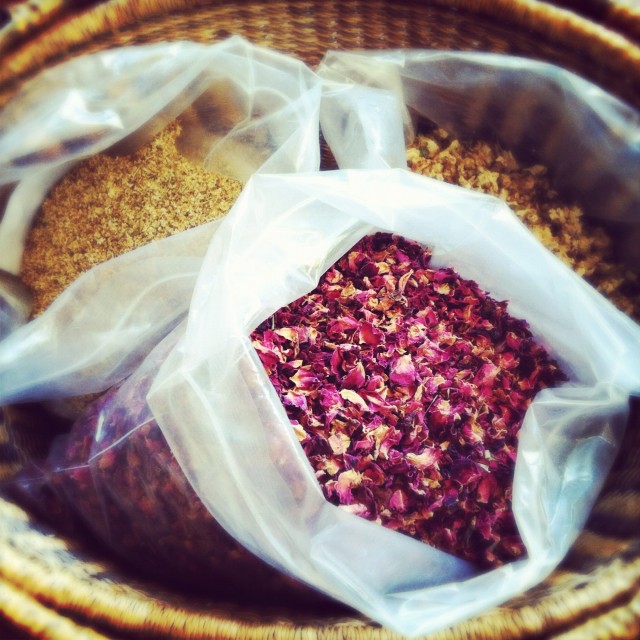 There's also fresh spearmint in the garden, so I chose to use that.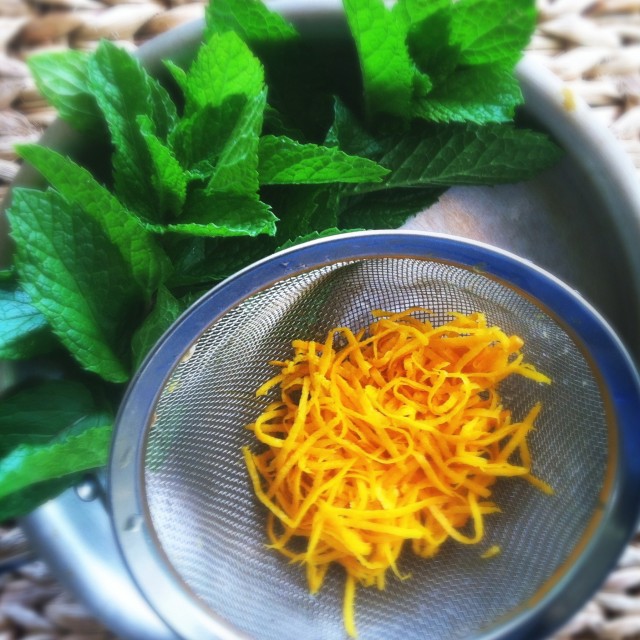 The following variations were also suggested to me: orange ginger, orange whiskey, orange shiso (I'm growing shiso, too, it's just not quite ready yet), orange vanilla — and I'd also like to try orange jasmine with those blossoms I got. You can probably think of other promising combinations. Share them in the comments if you will!
Simple Orange Syrup
4 heaping tablespoons orange zest
1 cup fresh-squeezed, strained orange juice
2 cups water
2 cups sugar
1/2 teaspoon citric acid
1. Wash, zest, and squeeze enough oranges to yield 1 cup of juice. (You can use long ribbons of zest, as shown in the photo above. If you end up with a little more or less zest than called for, that's fine.) Strain the juice and set it aside.
2. Blanch the zest in a small pan of boiling water for 30 seconds. Drain and repeat. (This reduces bitterness.)
3. Combine the water, sugar, citric acid, and orange zest in a medium saucepan. Cook over low heat, stirring occasionally, until the sugar has completely dissolved. Raise the heat and simmer steadily until the mixture noticeably thickens, about 15 minutes. (If you wonder about the citric acid, it's there to add tartness and also to help the syrup keep longer in the fridge. It's not always easy to find, though I have heard that you can find it at some Whole Foods markets, in the body care section. I got mine at a Middle Eastern grocery store. You can also order it online. If you can't find citric acid, you can sub a tablespoon or so of lemon juice.)
4. Remove the syrup from the heat and strain out the orange zest. Add up to 1 cup of the fresh juice to the syrup. (Exactly how much to use depends on the taste and consistency you prefer — also on the potency of the oranges. Some years I've stopped short of a cup, other years I've needed more.)
5. Allow the syrup to cool before transferring it to a container for the fridge. (I should say that I strained mine again as I bottled it, this time through a clean, scalded cloth. But that was kind of compulsive.) It will keep for weeks, but I bet you won't have it around long enough to find out how many. If I feel like I have too much for the refrigerator, I tuck the extra into the freezer.
Makes 2-3 cups.
Orange Mint Syrup
As above, plus three 5″ sprigs of fresh spearmint. Tear up the mint and add it to the pot about five minutes after the syrup has begun to simmer. Strain out the mint with the orange zest when the syrup is done, at Step 4.
Orange Cardamom Syrup
As above, plus 15 cracked cardamom pods. Add the cardamom to the pot about five minutes after the syrup has begun to simmer. Strain out the cardamom with orange zest when the syrup is done, at Step 4.
Orange Elderflower Syrup
As above, plus 3/4 cup dried elderflower blossoms. Add the blossoms to the pot about five minutes after the syrup has begun to simmer. Strain out the blossoms with the orange zest when the the syrup is done, at Step 4.