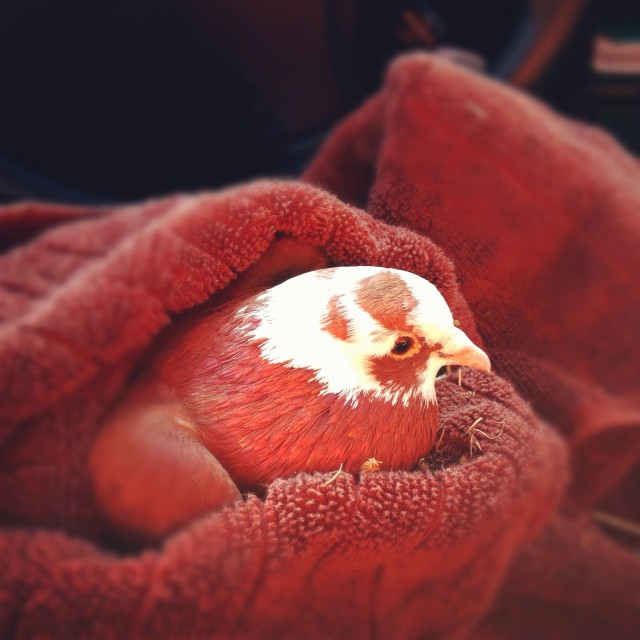 When I first saw Gem, I thought he was three feet tall. That was a powerful misperception, given that he is in reality just 10 1/2 ounces of flesh and bone and very fancy feathers.
I was driving home at the end of the day, fantasizing about apricots as jam makers do in June, when I saw what I thought was the shape of a giant pigeon in a weedy, vacant lot. To me, the sun's low slant made the bird's silhouette seem enormous. I doubt many others shared this illusion. In fact, hundreds of people probably drove or walked past Gem at a rush-hour pace without realizing something was wrong: a bird of his kind shouldn't have been standing there like he was, in that place at that time.
When I stepped out of the car, Gem made a brave but exhausted attempt to move away from me, and I could see that his right wing didn't work. I gently dropped a towel over the top of him, scooped him up, put him on my lap, and drove him home where, as you can see, Yuzu was not sure what to make of this new development . . .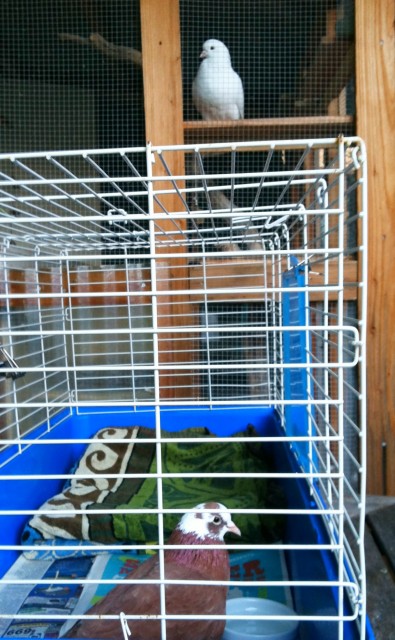 It had been a hard day for Gem, one that he probably wouldn't have survived if he hadn't found a way to make himself so tall and flag me down. He had the equivalent of a fractured wrist — that's the joint at the forward edge of a bird's wing. He also had a puncture wound in that spot, indicating that he had most likely been struck hard by a hawk. All of this was more than enough to ground the little guy.
Any of you who rescue and care for animals of any kind will recognize the feeling I had that night. As soon as I saw that Gem couldn't simply fly away from me I thought, "Well there go whatever plans I thought I had for the next couple of days." (Finish that overdue article? Go to the farmers market for a case of apricots? Probably not.) I've come to believe that it's not bad when everything stops in this way. In fact, it's usually an unexpected gift. It reminds me what I really care about. Living things, including pigeons, come first.
There was also a gut feeling that my life (and Gem's) would be dramatically different from that moment forward . . .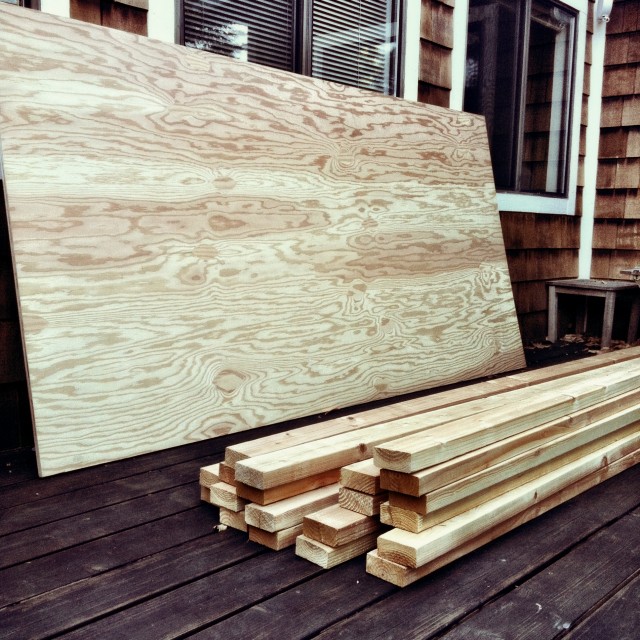 Yup. We're building a second pigeon aviary. I had always intended to have more than two birds, but Yuzu has made it repeatedly clear that no other boy pigeon will be getting into the house he shares with his girl, Quince. For months, I've been vacillating about creating a second aviary in an unused space on our front deck — and while I've been uncertain about the commitment, Stewart has not. He was sure we didn't need another pigeon house. But it was one thing to say that in the abstract, and another to hold the line when I walked into the kitchen carrying a little, injured bird in a towel. I didn't even have to twist his arm (much). We both love Gem.
So once we were pretty sure Gem was going to get better — he's doing great, though his free-flying days are over — we made aviary plans and even started to think about finding him a girl . . .
Oops! After I went and met this little roller at the Marin Humane Society, I felt that she was most likely not a girl, but we are still taking applications.
Gem is a "West of England Tumbler," a pigeon fancier's breed. He's not banded, so there's really no way of knowing where he came from. He was probably being flown from someone's aviary in the town where I found him. (His behavior around Yuzu and Quince confirms that he's an aviary bird. He'd like to get in there with them. The best we can do for now is set his enclosure nearby during the day. Even if the big birds would accept him, he has to be kept in a small space while his wing heals.)
I chose Gem's name because the red feathers around his neck have a luminous amethyst and green luster. If you in any way doubt he's special, just look at his feet!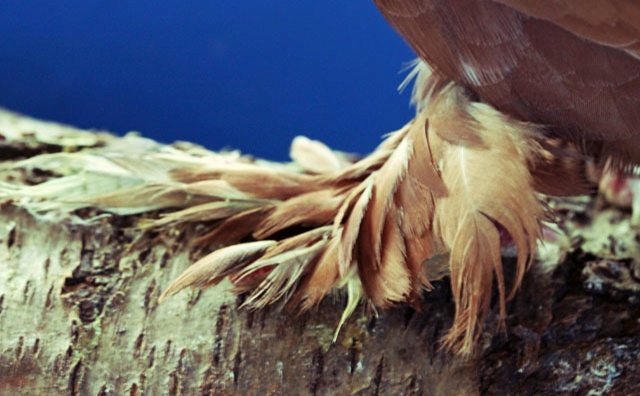 Handsome boy . . . we're glad he's here.
I want to shout out a huge thanks to everyone who has helped Gem get better so far: Dr. David Rupiper at East Petaluma Animal Hospital, Dr. Brenna Fitzgerald at the Medical Center for Birds, friend and animal rescuer extraordinaire, Gina Farr, and especially Elizabeth Young, the director of MickaCoo Pigeon & Dove Rescue, who accepted Gem as a MickaCoo foster bird — meaning that I'm his caregiver, but Coo is paying his doctors' bills until he is officially adopted — even though the MickaCoo roster is currently full up with wonderful domestic pigeons and doves in need of good permanent homes. (Meet them here!) Just as important, Elizabeth listens to me worry and fret while gently and generously helping me make the best decisions about Gem's care. Thank you, Elizabeth!
Those apricots — and a book giveaway! — are coming soon. :-)