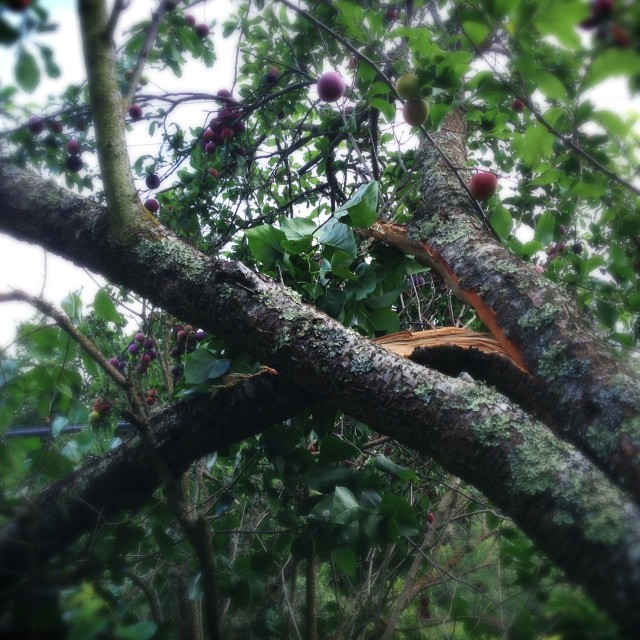 A majestic Santa Rosa plum tree cracked and dropped a huge limb in my neighborhood last week, spilling so much unripe fruit over the fence and onto the ground. It was painful to see.
We might not often think of them this way, but fruit trees are like domestic animals; to be well, they need regular care from us, their people. Conscientious pruning keeps trees to a manageable size and puts fruit within our reach for both thinning and eating. That usually makes for healthier trees and happier gardeners.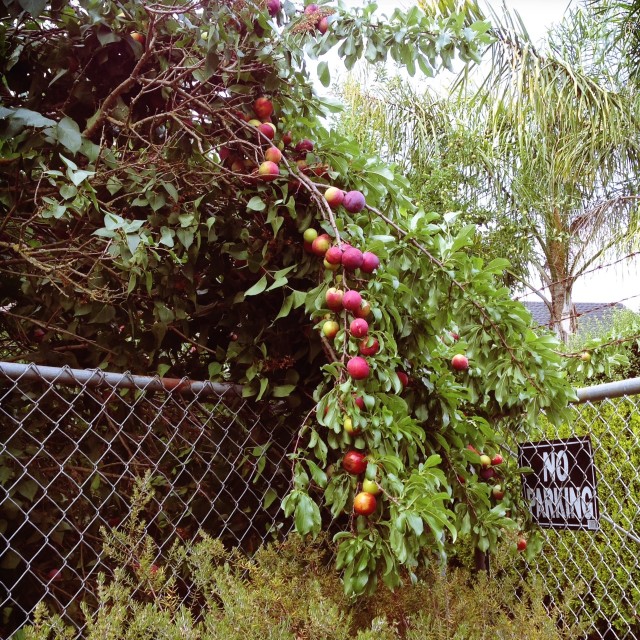 The very idea of pruning fruit trees used to make me nervous. It reminds me of how some people feel about canning. Some folks are afraid they'll accidentally kill someone with the wrong canning recipe or method, like I've been afraid I could kill a precious tree with one bad cut. The truth is, canning is easy and safe if you follow simple directions — and fruit-tree expert Ann Ralph says the same is true in the pruner's profession:
"Pruning is one of the most necessary, neglected, forgiving, misunderstood, and rewarding aspects of fruit tree care. In a very real way, the hand of the pruner creates the fruit tree. Managing fruit trees is far less complicated than we have been led to believe."
This is good news, because as much as I've been intimidated by pruning, I have a nearly compulsive desire to pick up loppers and shears to shape my trees — and other people's, too, it seems. Plus, I have to do it. We don't have much suitable space for fruit trees here, so we have to think small.
It's also good news that Ann teaches workshops nearby, and that I got to attend one last weekend. Here she is, tending to a little plum tree in the Kensington backyard where about a dozen students came together in search of pruning wisdom.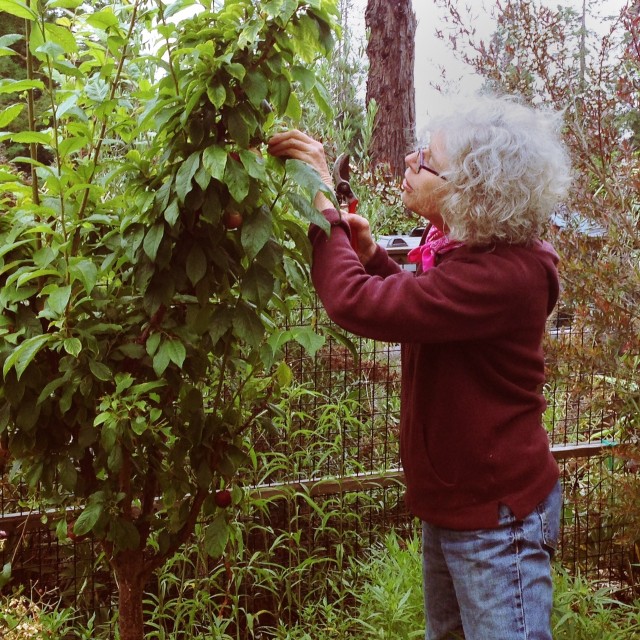 The deal is that any fruit tree can be pruned so that the furthest branches remain within reach of its caretaker's hands. Most of us backyard gardeners don't need gargantuan fruit trees like that Santa Rosa plum that broke under its own weight. Such trees can be grown head high instead of being allowed to sprawl to the height of a house.
One surprising thing I learned is that we don't need dwarf or semi-dwarf root stock to grow small trees. On the contrary, Ann recommended avoiding dwarf varieties, because they limit our ability to choose the best root stock for flavor, disease resistance, climate, and soil conditions. We can choose any tree we want, if we are willing to make one hard cut early in the tree's life and then continue to prune regularly after that, especially in summer.
Wait. What? Aren't we supposed to prune our fruit trees only in the dark of winter? Sure, Ann says, if we want them to grow out of control. She teaches that summer pruning — done close to the solstice, like get out there and prune your trees this week — is best for controlling size, while winter pruning helps to determine aesthetics, because you can better see the architecture of the tree.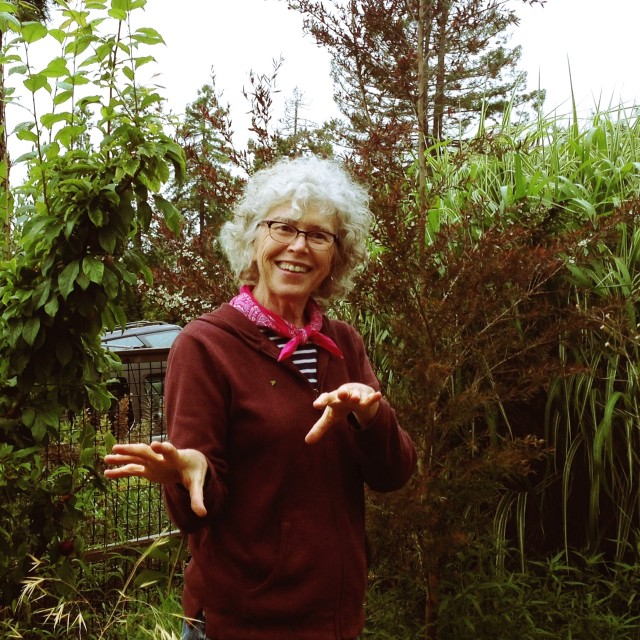 I wish I could tell you everything I learned on Sunday. We talked about different kinds of pruning cuts and many varieties of trees. Even in the drizzle of dense midsummer fog, I felt like I could stand around all day and listen to Ann talk about the beauty and benefits of keeping fruit trees small. She definitely has a contagious enthusiasm for her work, which I appreciated even though I've already caught the pruning bug. She's writing a book, called The Little Fruit Tree, which will be available from Storey Publishing next year.
I came home and had to put my lessons to use right away. Our apricot tree (a semi-dwarf Blenheim) was in need of a good haircut. You can see the great big whips it sent out since I pruned it in January.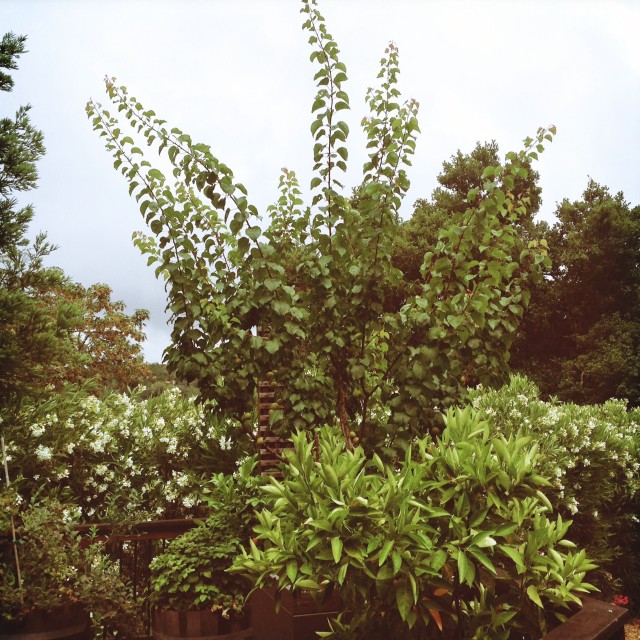 While I worked, I tried to keep in mind one of my favorite quotes from our pruning class handout: "Pruning is like editing. You remove what is getting in the way so the real story can unfold."
Also, it helped to remember that over and over again, as we students were wondering whether we should make this cut or that, Ann would say, "Sure." There were basic instructions about looking at the leaves and buds to make these decisions, because the cuts determine the direction in which the tree will grow. Beyond that, however, she kept asking the rhetorical question, "Does it matter to the tree?" Rhetorical because the answer was almost always, "No, it does not." So relax.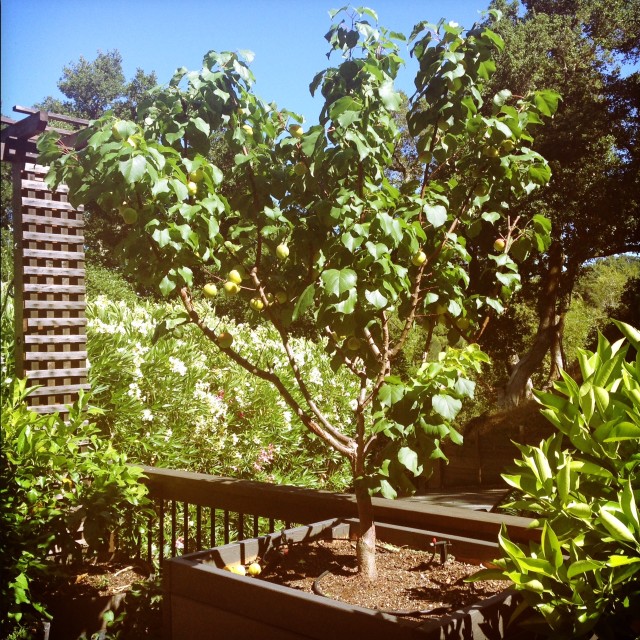 Be well, little fruit tree!