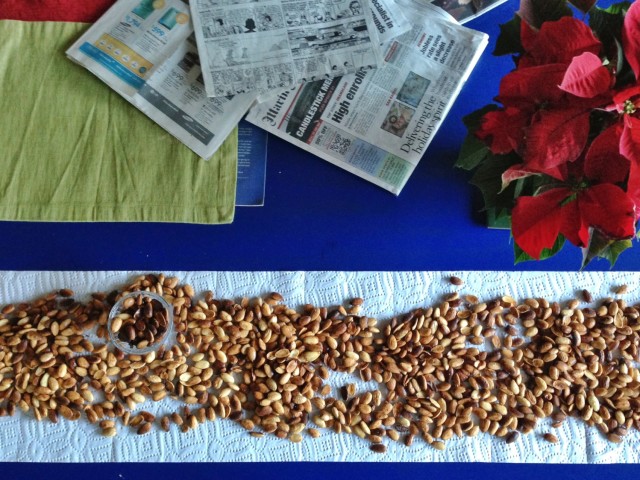 Yesterday, I made three pounds of buttery, salty roasted almonds. It's a family thing — if a slightly complicated one. My biological dad's mom taught my mom how to make them. My mom and dad split up when I was small, but my mom carried on the holiday tradition of making the almonds because, in that short time, members of both sides of the family had become addicted to them.
As a kid, I liked to hang around the kitchen while my mom prepared to roast the nuts. There was one main reason for this. The almonds must be soaked and blanched, and one way to liberate a nut from its skin is to squeeze it so that the slick almond shoots across the room at your mother, with missile-like velocity. What kid wouldn't hang around for that? Every year, I have to launch a few almonds in this way, for old times' sake.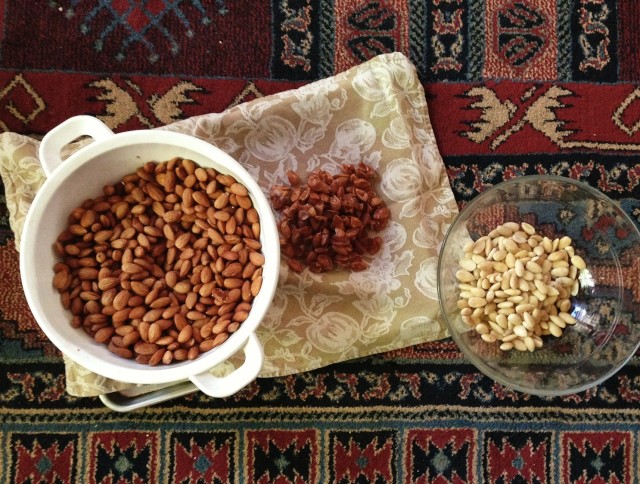 Last year was the first year I made these almonds myself. This is the part of the story that's harder to tell. My dad loved these nuts so much that for years I would send him a batch that my mom had made, but I always let him think I had done it myself. (He thought "I" made them better than anyone else in the family.) Why I perpetuated this white lie is part of the familial complication — basically, I wanted everyone to be happy. But last Christmas, I decided to come clean. I asked my mom for instructions and I made the nuts. I like to think that I also told my dad the truth, that it was really my mom who had been making the almonds for me to give to him all those years. The sad thing is that I don't remember if I told my dad the truth or not. And now I can't ask him, because he passed away in October.
I'm so glad I made the almonds for my dad last year. I expect I'll continue to make them as the years go on. I want to record the method here, not just because you might want to do this yourself, but so our family doesn't lose the directions —  imprecise as they may be. Last December, my mom gave me detailed instructions over the phone, but when I went back to my notes, this is what I found I'd written down:
boil water
steep nuts
drain in colander/skin
pat dry
cookie sheet 1/2 stick melt down
add lawyer nuts (my handwriting can be pretty bad)
nicely coat with butter/not too close
space layer paper towels
dump onto towels
fine grain salt
cool before container
That's totally clear, right?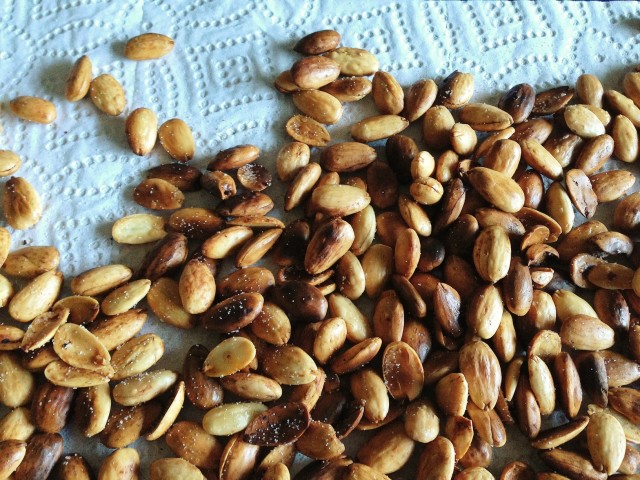 If it's not, I can elaborate. What you need for each batch of almonds is:
1 pound almonds
1/2 stick butter
plenty of fine grain salt (we've found that ordinary Morton's works best, better quality Kosher or sea salts don't seem to stick as well)
1. I get a 3 pound bag of almonds from Costco (otherwise this is a very pricey undertaking) and plan for three batches, blanching all the nuts at once. All you need to do is bring a big pot of water to a boil, remove the pot from the heat, then dump in the almonds and let them soak in the hot water until they'll easily slip their skins. I think this could be as quick as 15 minutes, but today I left them soaking for about an hour. Drain the almonds and remove the skins. I do this sitting on the floor in front of the TV. It takes me exactly the time of a full-length feature film to get the skins off 3 pounds of almonds.
2. If you want to be precise about it, you can weigh out 1 pound of almonds. I measure by eyeballing the 3-pound pile and taking what seems like a third. Pat the almonds dry between paper towels. Turn on your oven's broiler and place a rack 5-6 inches underneath it. Put the 1/2 stick of butter on a cookie sheet with a lip and melt the butter under the broiler, checking it frequently and sliding it around to be sure the butter doesn't scorch. Then add a single layer of nuts (they can be "lawyer nuts" if you want, but almonds are probably better) to the pan, coating them well with the butter and making sure they're not piled on top of each other. Also, at this point you should also lay down a long double layer of paper towels on the counter, so the towels are ready when you bring the almonds out of the oven.
3. Roast the nuts under the broiler, checking and stirring them frequently. Frequently is key. After the first few minutes, you'll be checking every couple of minutes (every minute toward the end) and "mooshing them around" (says my mom) so they don't burn. This is where I still have some trouble. I usually don't moosh often enough and always end up with some burned nuts. Luckily, blackened almonds also have some fans, so you can pull those out and set them aside for the lovers of burned food. The roasting and mooshing process takes about 15 minutes in all.
4. Remove the nuts from the oven and spread them onto the waiting paper towels. While they are still hot, salt them liberally. Use more salt than you think you need, because a lot of it won't stick.
5. Let the nuts cool completely before you put them into any kind of container. This will keep them crunchy.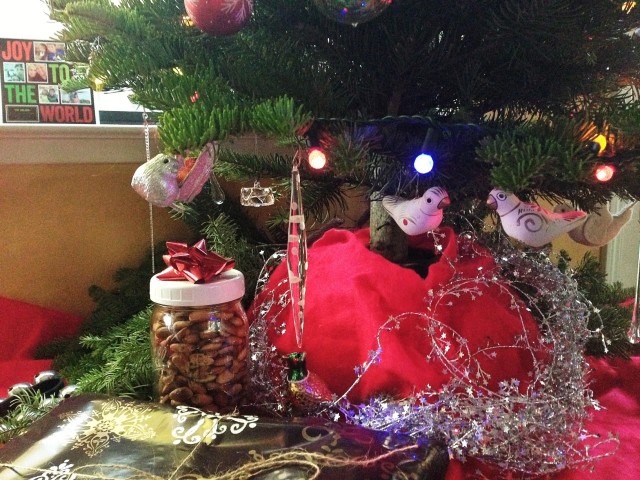 I'd like to end with a link to a short post I wrote about my dad back in 2008. I'd forgotten about it until just now. Merry Christmas, Dad. I'll leave your almonds under the tree.