I made a sunny limequat syrup during a wild storm. A branches breaking, fences falling down, water blowing sideways kind of storm. I took the limequats off the tree when I heard the weather was coming. They'd been calling out for picking for a couple weeks, so the bad weather was a good excuse. It was also good news, because we're still in a severe drought. January was the driest on record — no rain fell at all. We have our fingers crossed that the rain continues to fall down and the trees continue to stand up.
I almost made marmalade with these funny fruits. I haven't made marmalade in more than two years, not since I got sick and gave up sugar. Sometimes I really miss marmalade making, and I don't like feeling that I'm losing my skills. Still, I decided it was best to be practical. I can use this syrup. (Just a couple tablespoons in a big glass of water make a great limequat-ade. If you like to invent cocktails, the possibilities multiply.) Also, I'm not sure how many of my loved ones ever ate all the marmalade I gave them; it's not a slam dunk like, say, apricot jam.
I decided on limequat honey syrup after my friend Julia suggested it. I'd sent her a box of citrus in December and she turned out some lovely things, including candied limequats. She noted how good the syrup was and, when I was worrying over what to do with all this fruit, she speculated the syrup would be great with honey, too. She's smart.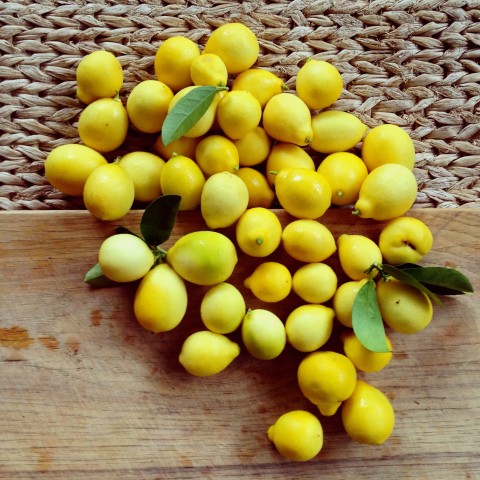 Limequats — a cross between a key lime and a kumquat — are not common, but they are starting to pop up here and there. Autumn Makes and Does recently went on an enviable picking expedition and came home with lots of weird citrus, including limequats. I'm looking forward to seeing what she invents with hers. Autumn also has a cookbook in the works, which I'm eager to see.
If you're interested in growing limequats, I can tell you that my tree is not yet three years old and it's astonishingly productive in its half-wine barrel planter. You can order dwarf limequat stock from Four Winds. (They didn't give me anything to say that.) Generally, you can use limequats just as you would limes. That's great for me because regular limes are harder to grow in our microclimate. I picked maybe a dozen limes from my Bearss lime tree this year and perhaps nine dozen limequats so far. So there.
Limequat Honey Syrup
3 cups filtered water
2 cups wildflower honey
1/4 cup limequat zest
1 cup limequat juice (from about 30 medium-to-large limequats)
1 tablespoon freshly squeezed lemon juice
Wash and chill the limequats. (They're easiest to zest when they're firm and cold. Keep a firm grip and zest them lightly so you don't take off the entire skin with its bitter pith. They're small and kind of squirrely!) Zest and juice the fruit, measuring out 1/4 cup of zest and setting the juice aside.
Combine the water, honey, and limequat zest in a medium, heavy-bottomed sauce pot. Cook the mixture at a gentle simmer, stirring occasionally. The honey is delicate, so you don't want to let it boil too hard or too long; it can easily develop an overcooked flavor.
Cook the mixture until it thickens slightly, about 20 minutes in all. (The syrup will continue to thicken as it cools.)
Remove the mixture from the heat, skim any foam, and strain out the zest. Stir in the lemon juice and about half of the limequat juice. Taste. Add more juice as you like. I went big and added the whole cup. I like it.
Allow the mixture to cool, then transfer to a bottle or jar for storage in the fridge. My yield was exactly one quart.