Now that I've (mostly) given up sugar, I make fewer preserves with it. By my count, I've made a sugared preserve just three times in the past year: fifty tiny jars of quince apple butter for favors at our wedding party last September, a small batch of Satsuma plum jam when a gift of ripe fruit unexpectedly appeared at my door this summer, and now this special blueberry raspberry mash-up that happened when we were at our Alaska cabin this month.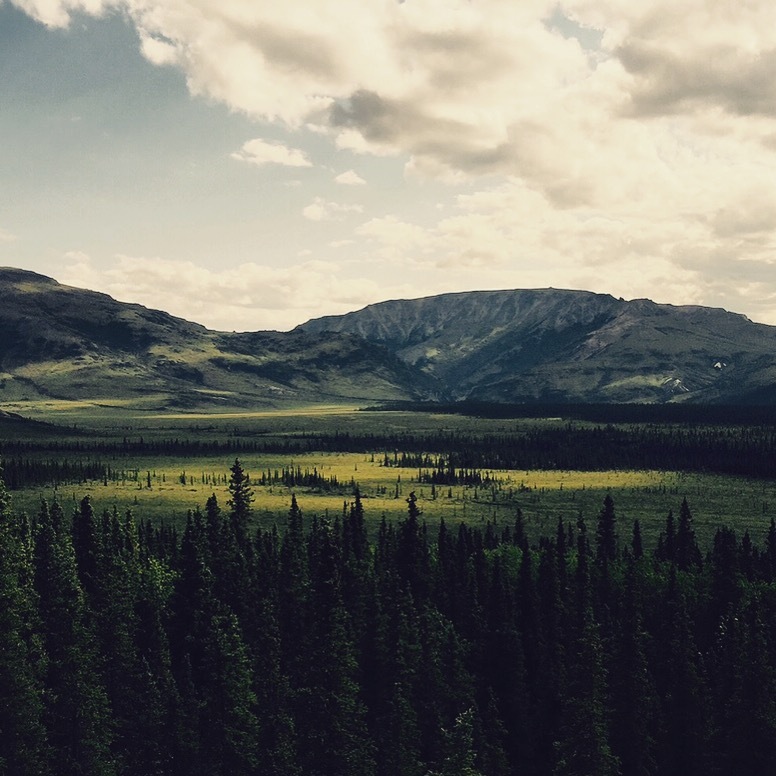 Getting to the point, I didn't plan to post this recipe because, honestly, I didn't expect it to turn out very well. But when Stewart said, "This is my all time favorite!" I decided to share. (You may want to take that comment with a grain of salt. If you search this blog for something like "best jam ever" you might find other instances of my number one jam fan saying the same thing.)
It wasn't a bang-up blueberry year around the cabin and we had to work hard to pick six or seven cups of berries. But one of my closest friends is a serious blueberry fan and for her I will paw around for hours in the wet green bushes — shucks, everyone knows I would happily do that anyway — and spend what feels like hours picking off every one of the tiny stems. Because would you want your good friend getting blueberry stems all stuck up in her teeth? I know you wouldn't.
With such a small amount of fruit, knowing I wanted to keep the amount of sugar low, I decided to use Pomona's Pectin. The boxes I had at the cabin were about four years old and I didn't know how that would work. Plus, I haven't used pectin of any kind for a while and I was concerned I might end up with something like tasty rubber.
I do love a good surprise. What was surprising about this was: (1) Pomona's Pectin keeps pretty much forever, (2) it's possible to generate a natural set, and (3) running slightly short of blueberries was an excellent problem to have. Without enough blues, I had to toss in the last of the precious raspberries we'd brought from our friend's Fairbanks garden. The raspberries made the cabin smell great and added a lasting and rich perfume to the jam.
Blueberry Raspberry Jam with Pomona's Pectin
3 ¼ cups mashed, raw wild blueberries, stems removed (about 6 cups to start)
¾ cup mashed, raw raspberries (a cup or so to start)
¼ cup lemon juice
1 ½ cups sugar
2 teaspoons calcium water
2 teaspoons Pomona's Pectin
Sterilize your jars. (I do this because I process the full jars for less than ten minutes.)
Combine the mashed fruit, lemon juice, and calcium water in a heavy-bottomed pot and stir well. (The box in the pectin packet explains what calcium water is and how to use it. Also, Pomona's is great about answering questions.)
Stir just 1 cup of the sugar into the fruit mixture and bring the mixture to a boil. Cook it at a steady clip for ten minutes, stirring as needed to prevent sticking or scorching.
While the fruit mixture is cooking, thoroughly mix the pectin into the remaining ½ cup of sugar.
After the fruit has cooked for ten minutes, stir the pectin sugar into the rapidly boiling mix — don't drop it all in there like a lump, shake it in gradually as you stir — then stir continuously for 2 more minutes.
Remove the mixture from the heat and pour or ladle the hot jam into your hot, sterilized jars, leaving ¼ inch headspace. Wipe the jar rims with a clean cloth if necessary, apply lids, and process in a hot-water bath canner for 5 minutes. (Add an extra minute for each 1,000 feet of altitude. At the cabin, we're just shy of 2,000 feet so I add an extra two minutes to the processing time.)
Makes 4-5 half pint jars