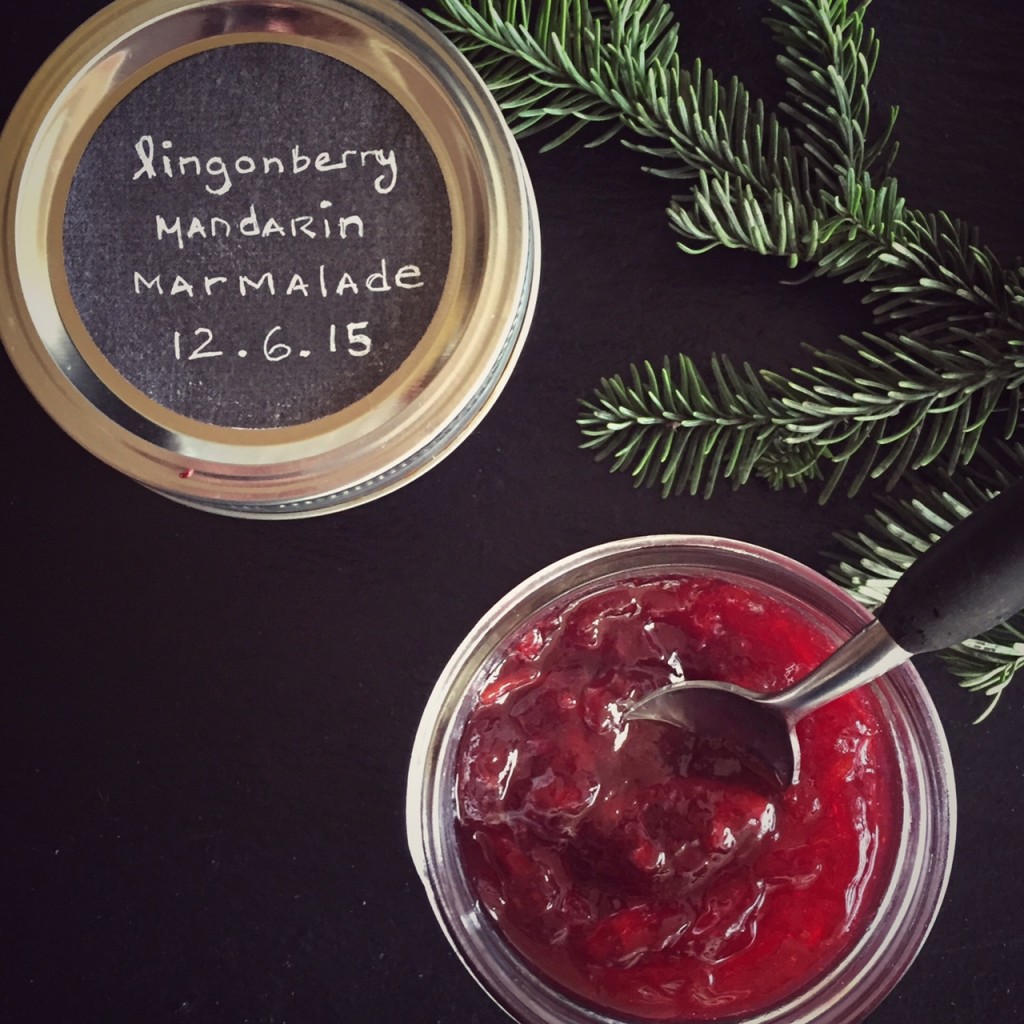 Making marmalade is not quite like riding a bicycle. By that I mean that if you don't do it for a few years, you're probably going to have to refresh your skills, and you'll wobble as you get started. At least that's how it was for me.
A few weeks ago, in the midst of a household cleaning and organizing spree, I turned up two cases of Meyer lemon marmalade I made in 2012. Tucked into one of those boxes was a single jar of lingonberry mandarin marmalade, made with wild Alaskan lingonberries (a.k.a. lowbush cranberries) and sweet winter mandarins. I suspected those fruits might have held up well, packed in all that sugar for three years, and indeed they did. I took a taste and stared at the jar with a kind of wonder. Did I really make that? How did I do it — and how could I have let myself forget?
Marmalade was my obsession for many years, until I experienced a health crisis (not related to marmalade as far as I know), gave up sugar, and stopped. Now that I'm better, I've found myself once again craving the process — the uplifting scent of citrus on a cool, cloudy day; the steady, snick-snick rhythm of slicing, turning, slicing the fruit; even those slightly edgy moments of waiting and watching for the perfect set. Anything to which we're willing to completely give ourselves can become our meditative practice or our art form, or both.
I decided to start again, here.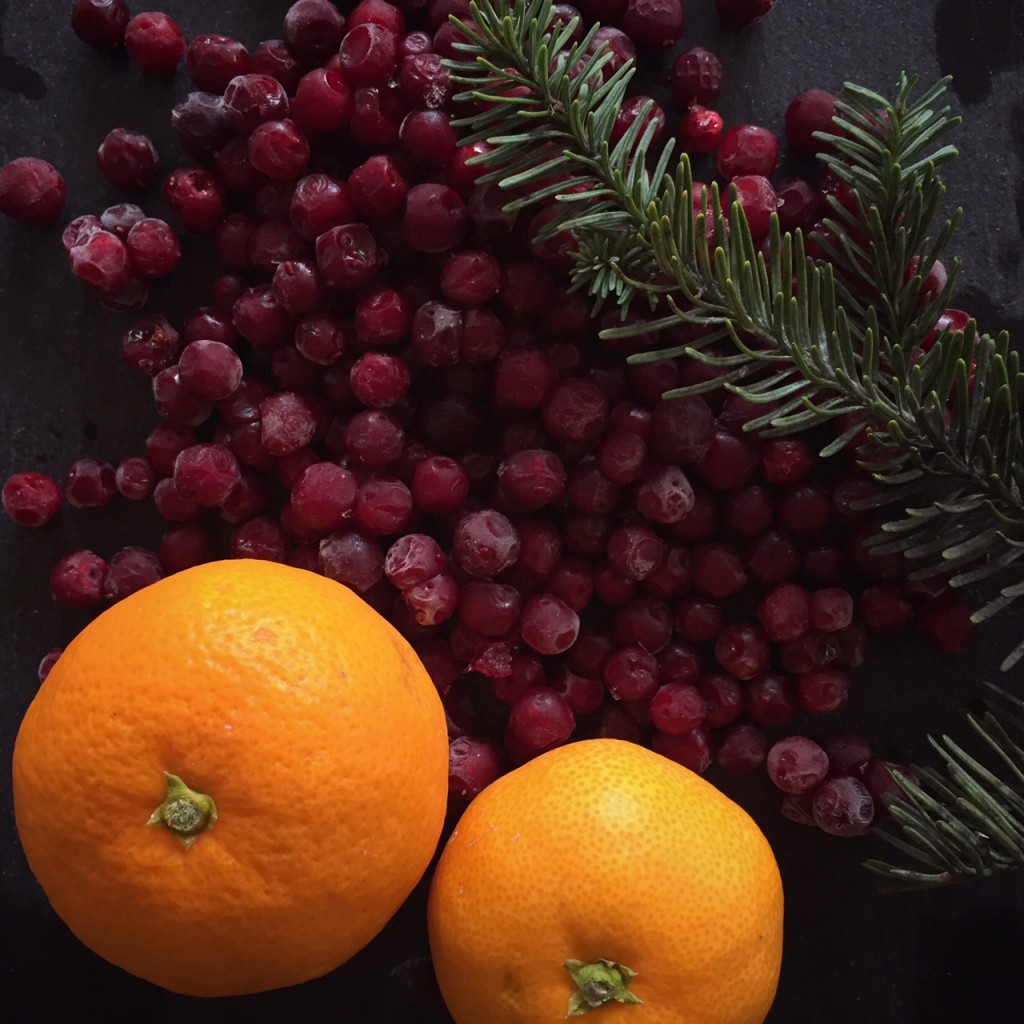 The lingonberries were picked at our summer cabin and tucked away in the freezer for a while. They were labeled "Stewart's," which was my coded way of remembering that because Stewart picked them (he's a faster and less fastidious picker than I am)  I needed to keep an eye out for leaves and other tiny bits of the forest floor that escaped my notice while packing them.
If you're not in Alaska or Sweden or hanging out at some other northern latitude, you won't have much luck finding lingonberries or lowbush cranberries (lingonberry preserves at IKEA notwithstanding). The good news is that you can substitute regular cranberries, no problem. In fact, that's where this recipe started, with the lovely Caroline at Grow It Cook It Can It. A while back, she made Valencia Orange Marmalade with Apples and Cranberries, and all I did was swap ingredients and simplify the process for myself by using bottled apple juice instead of homemade. As an aside, this version may be sweeter than Caroline's; even though it uses unsweetened bottled juice, it's likely not as tart as homemade unsweetened juice would be.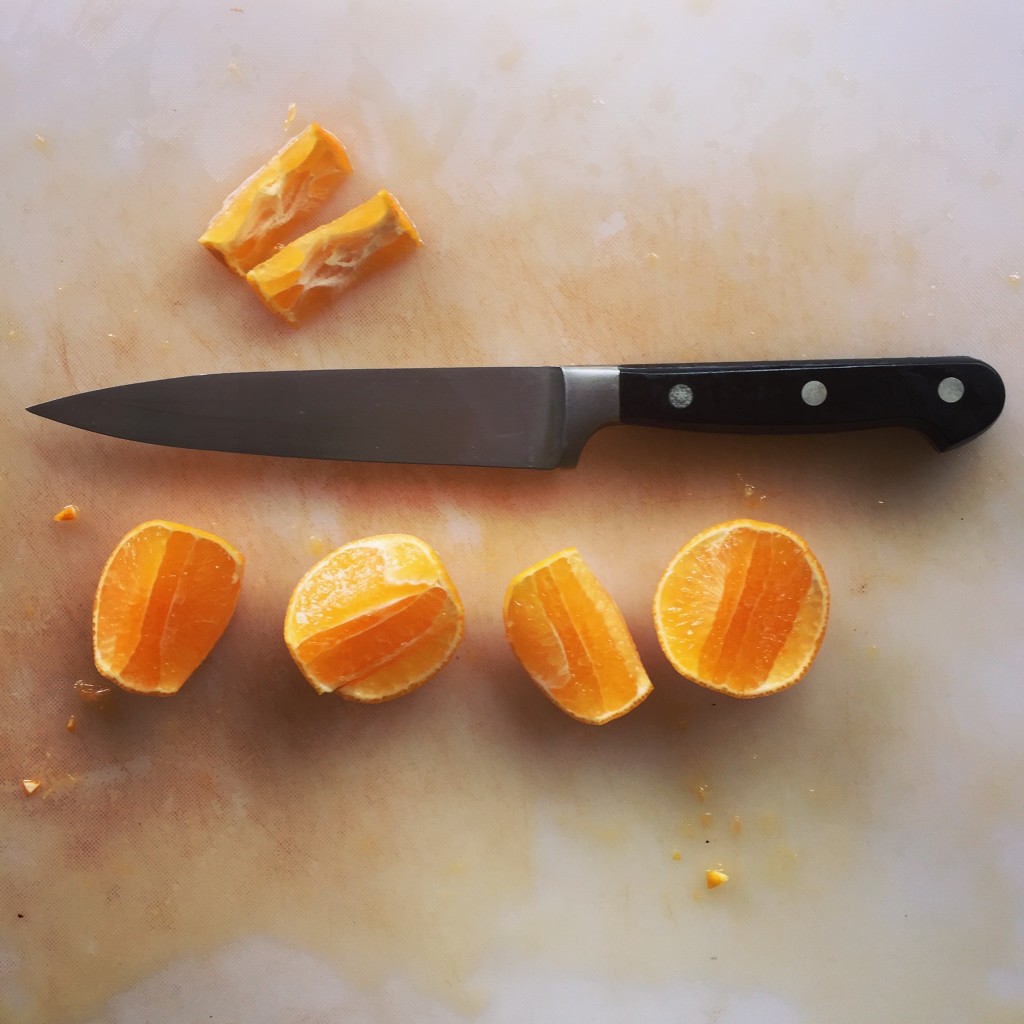 I think this is a great "beginner's" marmalade, like marmalade with training wheels for those who are just getting started or renewing their skills after a long break like mine. It's a two-day process but it skips the typical step of pre-cooking the citrus — and the combination of citrus, apple, and cranberry almost guarantees an excellent set.
Plus it's a great recipe for the holidays.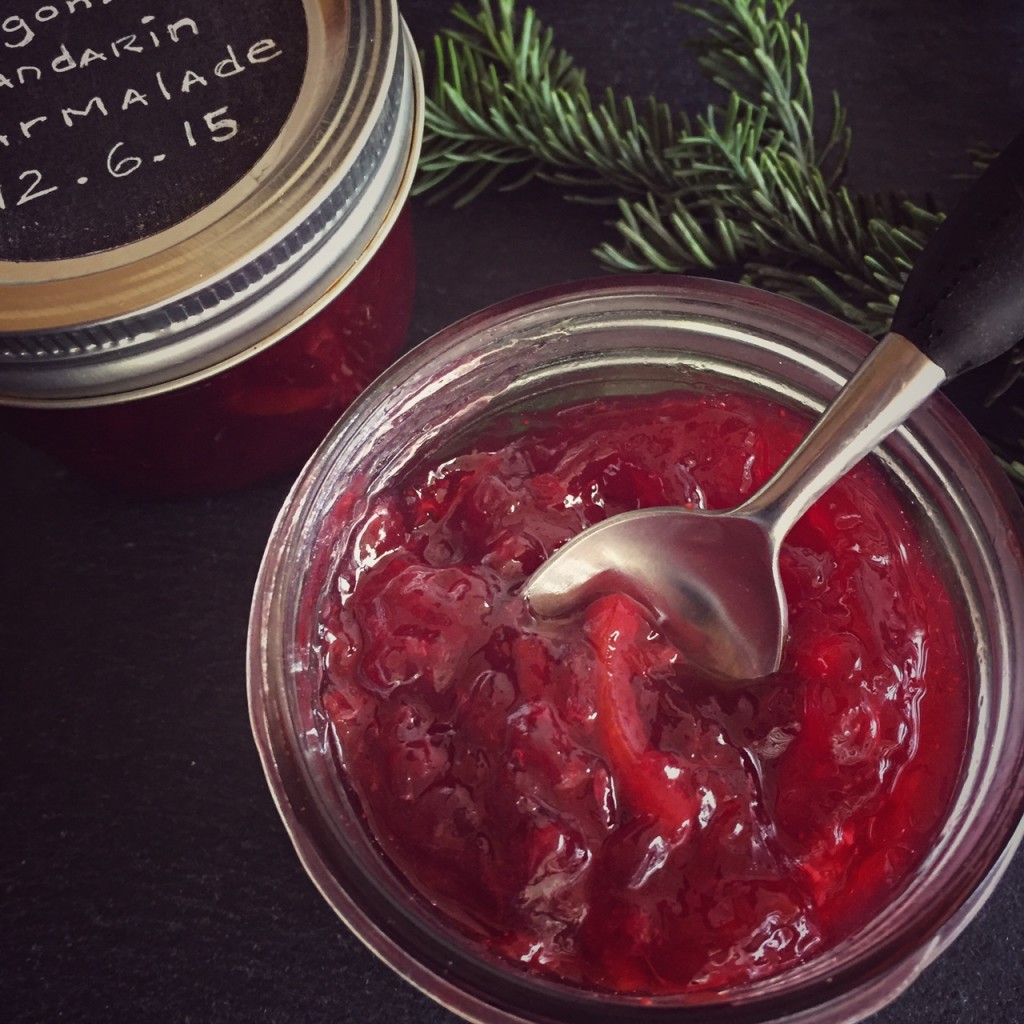 Lingonberry Mandarin Marmalade
Makes about 8 half-pint jars
2 1/2 pounds mandarin oranges (Clementine or Page varieties work well, tangerines would probably be great, too)
6 cups organic unfiltered apple juice (I used Knudsen)
3 1/2 cups lingonberries (or cranberries of your choice)
6 cups pure cane white sugar
Day 1
Prepare the mandarins. For instructions and photos showing how to slice the fruit, see this post on slicing citrus for marmalade. Here, you want to slice the peels very thin — about 1/8″ if possible. That's because you're not going to cook them separately to soften them; you want them thin enough to thoroughly cook on Day 2. (As Caroline says, "If you don't slice them very thinly, they won't cook all the way through, and they'll be gross chunks of bitter orange rinds." Okay? Okay.) Combine the sliced mandarins with the apple juice in a glass or ceramic bowl, cover tightly, and leave it to sit overnight. (You can put it in the fridge or leave it out; it's up to you.)
Day 2
1. Sterilize your jars and put 5 teaspoons on a plate in the freezer to test the marmalade for doneness later.
2. Put the sliced mandarins and apple juice into a large, heavy-bottomed, nonreactive pot — that is, not uncoated aluminum, cast iron, or copper. Add the lingonberries (or cranberries) and sugar and stir gently until the sugar begins to dissolve, then turn the heat to high.
3. Bring the mixture to a boil and cook it on high heat until it reaches the jelling point. This took 45-50 minutes for me, which seemed long and was probably because I stirred too often. (The first time I made this, I believe my cook time was about 40 minutes. It varies.) Stir as much as you need to keep the mixture from sticking or scorching, but not obsessively, because stirring brings the temperature down. I started testing for doneness when the mixture reached 220F on a candy thermometer. (After you've made a lot of marmalade, you'll be able to give up the candy thermometer, but I used mine to re-teach myself how the correct temperature looks, sounds, and feels.)
The Frozen Spoon Test
Remove the mixture from the heat source before testing. Use one of the frozen spoons to scoop up a little bit of the marmalade — not a whole spoonful, more like half. Return the spoon to the freezer and wait 3 minutes. Retrieve the spoon. When you push the marmalade with your finger, it should wrinkle subtly but all the way through. If you hold the spoon vertically, it should hang together as a whole and start to move very slowly down the spoon. It shouldn't be runny.
4. When the mixture passes your test for doneness, ladle or pour the hot marmalade into the sterilized jars, leaving 1/4-inch head space. Wipe the jar rims with a clean, damp cloth or paper towel if necessary, then put on your lids and bands.
5. Process in a water bath canner, using the correct time for your altitude: 5 minutes for 0-1,000 feet above sea level, plus 1 minute for every additional 1,000 feet. After you turn off the heat, let the finished jars sit in the canner for 5 minutes more before removing them from the water.
More Marmalades and Other Favorites
For this holiday season, I've decided to make two more marmalades, Quince Orange Cardamom (my recipe that was noted in the New York Times way back when, which was a crazy thrill) and simple Meyer Lemon. I also felt like compiling a list of all the marmalade recipe and technique posts on this blog. Mostly what I learned from that is that I really like Meyer lemons — or I've just had access to a whole lot of them. Here's the list:
Double Meyer Marmalade (Meyer Lemons & Meyers's Rum)
Meyer Lemon-Lime Marmalade
Meyer Lemon PAMAlade (Meyer Lemons and Pomegranate)
Meyer Lemon-Strawberry Marmalade
Quince Meyer Lemon Marmalade
Lingonberry (Lowbush Cranberry) Marmalade Relish
Quince Orange Cardamom Marmalade
Clementine Almond Lime Marmalade (This one is so weird! What was I thinking?)
Why Good Marmalade Takes Time
How to Slice Citrus for Marmalade
I also like whole citrus jams a lot, so here are a few of those:
Grapefruit Honey Jam
Meyer Lemon Jam with Mint and Honey
Rangpur Lime Jam
And finally, two jellies that I know people have enjoyed making for holiday gifts:
Pomegranate Champagne Jelly
Hard Apple Cider Jelly
Enjoy!