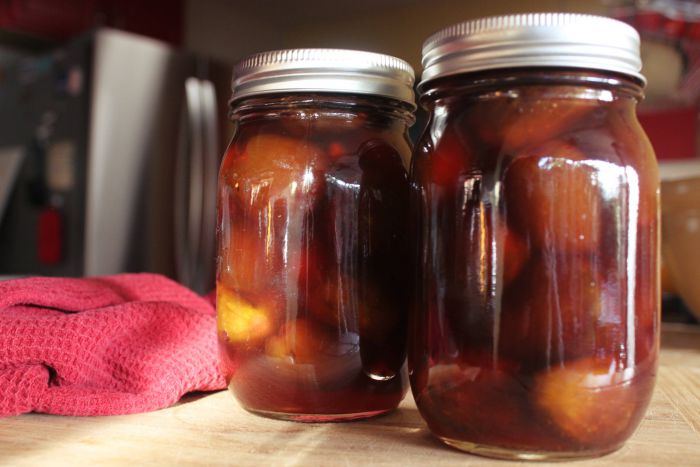 I started making fruit preserves about ten years ago when I lived in a little house in Berkeley with five different fruit trees in a postage-stamp yard — plum, lemon, apple, persimmon, and a rangy, prolific Black Mission fig in the far back corner. It was the onslaught of those figs that got me started canning, and these pickled figs were the first thing I ever made.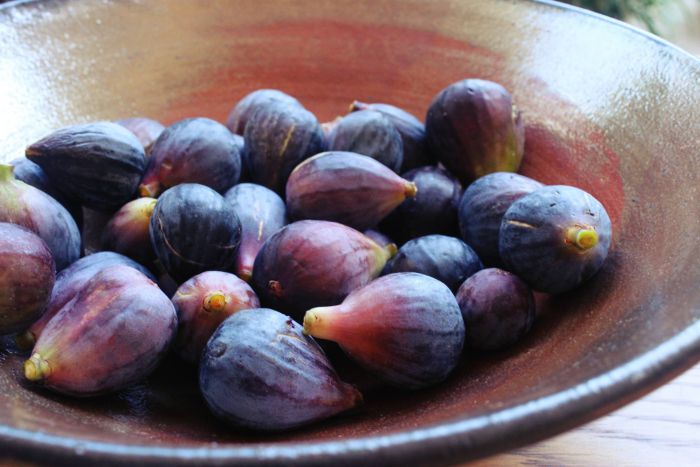 The recipe came from a friend who obtained it years ago from the mother of an old friend of her husband. It's one of those good finds: tried and true, passed down from hand to hand — but I do tinker with it a bit. I add a bay leaf and, instead of the white vinegar called for in the original recipe, I use half white vinegar and half apple cider vinegar. (You can use whatever vinegar you like so long as you make sure to use a full cup and your choice is distilled to 5% acidity. Look for that information on the label.)
Before you start, keep in mind that the process is simple but it takes a couple of days because you'll simmer the figs, let them sit for for half a day or overnight, and then repeat the process, letting them sit again. In the end, the figs will be plump and sweet and spiced as much as pickled, so don't worry that they'll be too puckery. (The high sugar content makes them seem much like a cross between pickled and candied.) You can use them in desserts or with savory dishes. They're nice with a cheese plate, and quite fine for popping into your mouth one at a time, straight from the fridge.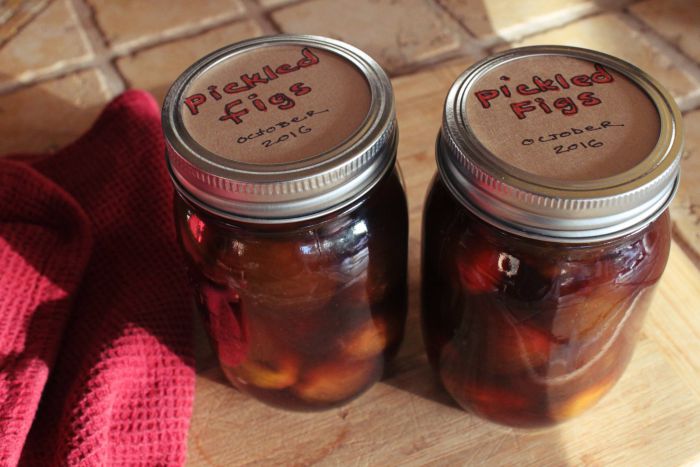 Pickled Black Mission Figs
The fruit:
3 quarts ripe Black Mission figs
enough boiling water to cover the figs in a large bowl or pot
The brine:
1 cup water
1/2 cup white vinegar (5% acidity)
1/2 cup apple cider vinegar (5% acidity)
6 cups sugar
1 bay leaf
1 cinnamon stick
a couple teaspoons of whole cloves, tied up in cheesecloth or placed in a stainless-steel tea ball
1. Wash the figs, leaving a bit of the stem in place, and place them in a large heatproof bowl or pot. Cover the figs with boiling water and let stand for 10 minutes.
2. In a large, nonreactive pot, combine all the ingredients for the brine. Heat the brine slowly, stirring gently until the sugar is dissolved.
3. Drain the figs and add them to the pot with the brine.
4. Bring the mixture to a boil, reduce the heat, and simmer for 10 minutes. Turn off the heat, cover the pot, and place it on a cool burner where you can let it stand for 10-12 hours. Then repeat this step: Simmer the figs for 10 minutes and let stand another 10-12 hours. Finally, simmer the figs for 10 final minutes, so they're hot and ready to can.
5. Remove the spices, then pack the hot figs into clean, hot Mason jars and cover them with brine, leaving 1/2-inch head space. (Remove air bubbles with a small silicone spatula or chopstick, then adjust the level of brine if necessary.) Wipe the jar rims with a clean, damp towel, and add the lids. Process 15 minutes in a boiling water canner. (That's the processing time if you're at an elevation of less than 1,000 feet. If you're at higher altitude, don't forget to increase your processing time accordingly.) If you don't want to can them, store them in the fridge and use them up within a month or so.
Makes about 4 pints.