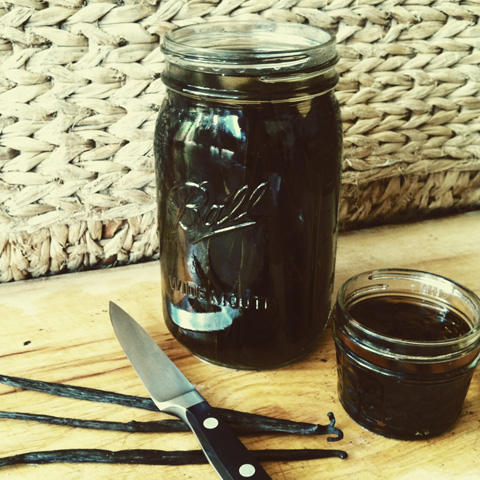 Last year, I wanted to make vanilla extract for holiday gifts, but I missed out. I have heard people say, variously, that it takes two months, three months, six months — in other words, a while — for vanilla beans to steep long enough in vodka to create an extract with deep, true vanilla flavor. It was almost Christmas, so I let it go and told myself I'd get an early start next time. Unbelievably, it's already "next time" and it's almost too late again — but not quite.
This is another one of those projects (like yogurt or fruit leather) that lends itself to many variations of technique and timing. There are a lot of tutorials out there, and I'm posting my own notes mostly so I can keep track of the way I decided to do it — and to share a few sources in case they help you.
I began with a recipe at TableFare, which calls for 6 vanilla beans for each 1 1/2 cups of vodka. But then I got a lot of great advice from friends on the H2H facebook page, too. Phoebe said 8 beans for each cup of vodka is better. Jyll shared her source for quality, affordable beans. I had a lot of tips to choose from. (Be sure to read the comments below for even more of those great tips.) Here's what I decided to do:
1. I ordered 1/2 pound of organic vanilla beans from Saffron.com for $31.99. [Update: Two years later, in 2013, the same quantity costs $39.95.] That's about 75 beans! Plus they throw in 5 extra beans as a gift. Shipping was fast. The company is in San Francisco, so the beans were on my porch the day after I ordered them.
2. I poured myself a quart jar of Stoli. (Actually, I used a 750ml bottle, which turns out to be just shy of a quart.)
3. I counted out 32 vanilla beans, nipped off the ends, split the beans lengthwise, and added them to the vodka. (It may have been goofy of me to snip the ends, but otherwise the beans wouldn't have been fully submerged in the alcohol. I could have just mushed them down, or cut them horizontally, but instead I made a separate plan for the end pieces, which I mention below.)
4. I put the lid on the jar, labeled the lid with the date and what's in there, and put the whole deal into the pantry to steep. I'll shake it up every now and then and we'll see how it goes. In a couple of months, I'll taste and report back with the results. (You can pop over to the 70-day update by clicking here.)
I hope I can find more of these sweet Bormioli swing-top bottles to present the extract come December. Last holiday season, I saw the small ones — they hold about 4 ounces —  at both Sur La Table and The Container Store, but I haven't yet had luck finding them online.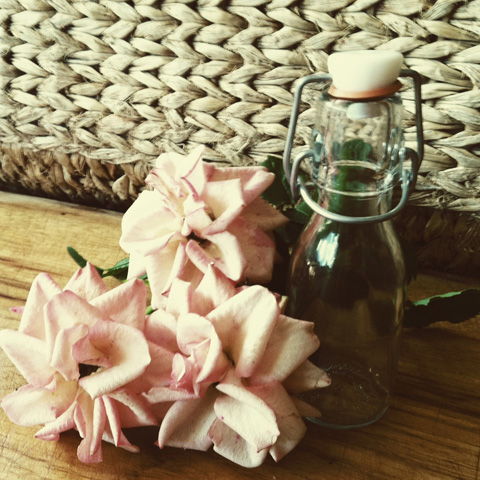 So what about the nipped off ends of those beans? I tossed them into a 4-ounce jar and covered them with Grand Marnier. It seemed like the thing to do, though I have no idea what the results will be. I have five pounds of summer-picked figs in my freezer that are starting to haunt me, and I recently tasted a lovely figgy jam that contained plenty of vanilla and booze. I thought an infusion of drunken bean butts (sorry) or a splash of the liqueur might be just the thing to add to my fig jam when I get around to it. Before next year, for sure.