I've been looking forward to the publication of Grow a Little Fruit Tree for a year and a half, ever since I took a pruning class with its author, Ann Ralph. When I signed up for that class, I had only one fruit tree — not counting my citrus in barrels — and dreams of more. The "problem" is that our hillside is so beautifully dominated by native oak and bay; we're left with only sketchy sunlight and little space for additional in-ground trees.
The answer is exactly what this book is about: Small is beautiful. And besides being beautiful, small works great.
I'll put my disclosure right up front: I'm not getting anything "extra" for talking about Grow a Little Fruit Tree. I paid for the pruning class and I bought this book myself. What I've gotten is a lot of great information about pruning trees and the responsive attention that Ann gives to all of her students. I'm writing about the book because I'm grateful.
Pruning Fruit Trees to Keep Them Small
Without good guidance, I wouldn't have known what to do with these . . .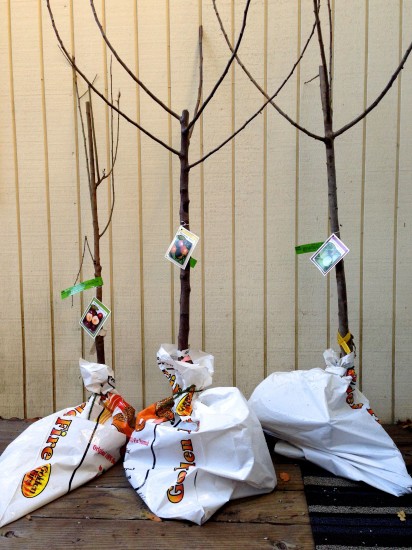 That photo is from a year ago, when I ordered three bare-root fruit trees from the Berkeley Horticultural Nursery: a Braeburn apple, a green gage (or greengage) plum, and a Santa Rosa plum. I purchased ordinary rootstock, not anything sold as "dwarf," because I learned from Ann that it's completely acceptable — normal, even — to buy a regular variety and simply prune it to keep it small. We need not be constrained by the limited number of available dwarf varieties; we're free to buy whatever tree works best for our climate and our taste.
Still, I was initially freaked out by what "keep it small" means. It begins with the alarming step of cutting the tree to the height of your knees at the time of planting. You can see from my emails with Ann that I wasn't quite sure about this.
Me . . .
Oh gosh, I think what I need to do to/for these trees is just now occurring to me. When they made the hard cuts at the nursery, they cut the trees so that they are about hip high, and they still have a couple of branches — are these the nurse limbs? If I cut the trees to knee high, they're just sticks! But I think I understand that's what I'm supposed to do . . . yes?
Ann . . .
Knee-high is right. I know, just sticks, but you won't regret it. You want a nice, clean cut that angles away from the bud. Shae, if you make this prune you can do anything! Don't worry about nurse limbs — your trees don't need them.
Me . . .
Okay, I'm going to do it! They are all in the ground now, so I'll probably go out and make those cuts this evening or tomorrow morning.
Ann . . .
They'll be fine and so will you!
Here's what that first cut on the apple tree looked like. You can probably see why I was uncertain.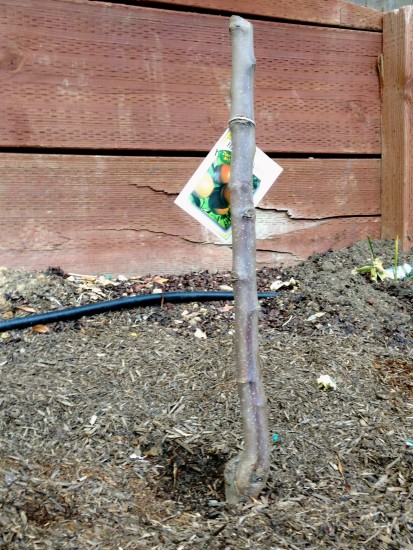 Two months later when I discovered I had not killed my beautiful (and somewhat expensive) trees, I wrote to Ann again.
Me . . .
My new little fruit trees — the apple and two plums — are all putting out strong new shoots. It worked!
Ann . . .
See? Proud of you!
This is the worst time to show you what the three trees look like today, because it's mid-winter and the garden is a wreck. But all three made it through that first extreme cut, then a significant summer pruning last June. (Summer pruning is a critical step in keeping trees small.) I'm getting ready to prune them again in the next couple weeks.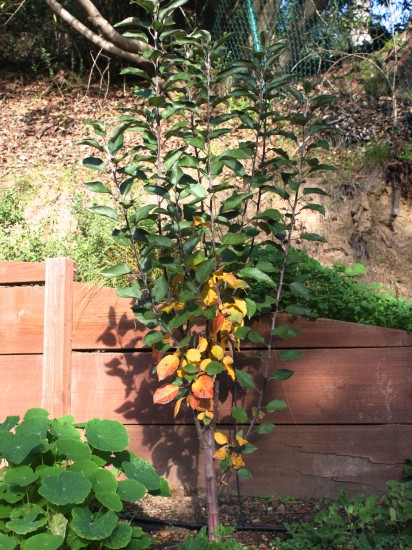 The goal is to keep the tops of the mature trees within reach of my hands. Ann's new book is a manual about exactly how to do that and more.
Close-Planting Trees to Save Space
One of Ann's space-saving tips is planting trees very close together and, as they grow, pruning them as though they're a single tree. In other words, you remove the branches that grow inward and congruently shape the outward reaching branches. It's a simple alternative to grafting multiple varieties onto just one tree.
I'm doing this with the two plum trees. So far, so good. Again, this is their decidedly unglamorous winter look, with the leggier green gage plum in back, but even this past summer — their first in the ground — they were in full leaf and beautiful.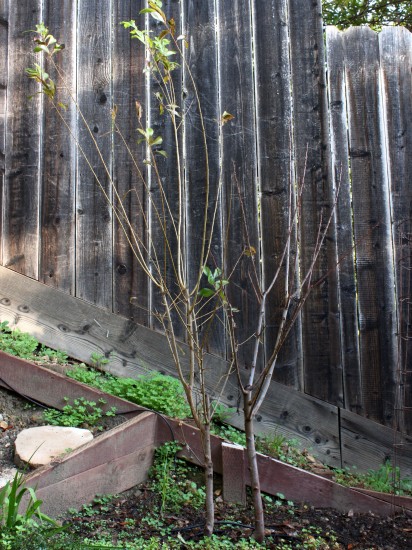 This image from Ann's website of a single Fuji apple tree does a better job of showing how lovely and productive a little tree can be.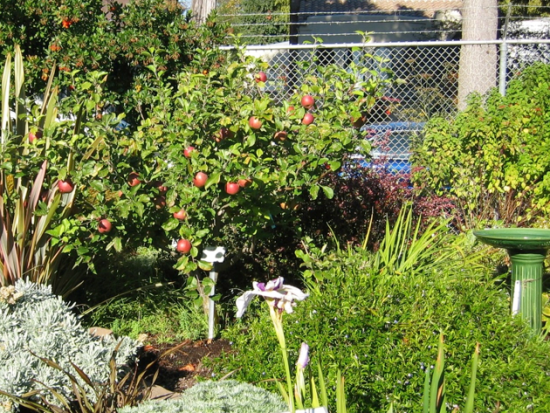 The bottom line is that if you're interested in planting and maintaining easy-to-manage fruit trees, this book will help you. That's especially true if you're at all nervous about pruning. You can see from Ann's emails how reassuring she is; that clear and friendly tone carries all through her book. It's fun to read.
Ann lives and works here in the Bay Area, so the book's examples are perfect for folks who live in North or Central California. But you can apply the basic techniques wherever you live.
If you want to learn more, visit Ann's website and join her mailing list for classes, workshops, and helpful pruning reminders. (She's not the spammy sort. I've been on the list since I took the class and have only gotten a few emails. Every one of them has helped me remember it's time to go out and do something to help my trees.) Grow a Little Fruit Tree is now available from your favorite local bookseller. And here are links to order it from Workman or the magical Powell's Books in Portland.