Whew! There were moments during the past couple of weeks when I didn't think I could pull it off — but welcome to the new home of Hitchhiking to Heaven! The old version of this blog was starting to suffer from growing pains, so I moved it here to WordPress with the intention of making it easier for you to find your way around. For example, check out the new Recipes link, above. Also, see those little brown-bag icons in the sidebar that make it easier for us to keep in touch? (If you subscribed to H2H before, I hope you'll use that "Subscribe!" button to refresh your subscription via email or your favorite feed reader.) Finally, I do love how this spacious new format gives my posts more room to stretch their legs. It lets me use larger photos and hopefully makes the blog an even happier place to visit.
I could not have managed this move by myself. I want to offer a huge thanks to Sister Diane at Craftypod, who held my hand long-distance from Portland and helped me every step of the way. (If you have a craft or food blog and want to tune it up, she is an awesome consultant — kind and quick, creative and smart.) My art-making friend Annie helped me navigate a world of fonts. And then Kaela at Local Kitchen, who went through something like this not long ago, didn't miss a beat when I asked her to help me figure out a thing or two about putting said fonts to work. Where would we be without the generous folks who have gone down the road ahead of us?
The content of H2H will remain much the same. I plan to post a new preserve recipe once or twice a month — usually a sweet one. That's the bread, butter, and jam of this blog. But.
I also need to try something new.
Have you ever read the story [amazon_link id="0060838000″ target="_blank" ]Bread and Jam for Frances[/amazon_link]? Frances is a little badger who adores jam.
Jam on biscuits, jam on toast,
Jam is the thing that I like most . . .
Raspberry, Strawberry, Gooseberry,
I'm very
FOND . . . OF . . . JAM!
Trouble is, bread and jam is the only thing Frances wants to eat. She turns up her nose at eggs for breakfast and trades her sandwich for jam at lunch. She's into jam in the morning, at noon, and by the light of the moon. So Frances's mother employs some reverse psychology, serving bread and jam to Frances at every opportunity. You see what's coming, right?
Jam for snacks and jam for meals,
I know how a jam jar feels —

FULL . . . OF . . . JAM!
By the end of the book, Frances is happily eating lobster salad for lunch.
Now, I still love jam, but by the end of last year I was feeling a little like Frances. (Not quite so furry, though.) I felt frustrated when I would spend eight hours in the kitchen making fruit preserves and then have to call Stewart to ask him to bring me something to eat. I mean, I want to make jam and a good dinner, too. At least some of the time.
So here's the deal: I am not known for liking vegetables. At all. Not broccoli, not cauliflower, not squash. Certainly not brussels sprouts. I like to grow veggies, but I'm not in the habit of eating them — and I would like to change that. I asked Stewart (who is a champion vegetable eater) to help me out. Every month for the rest of this year, he is going to surprise me with a vegetable. I have to take that veggie and make something yummy with it, something that's part of a good, well-rounded meal.
Guess what he brought home this month?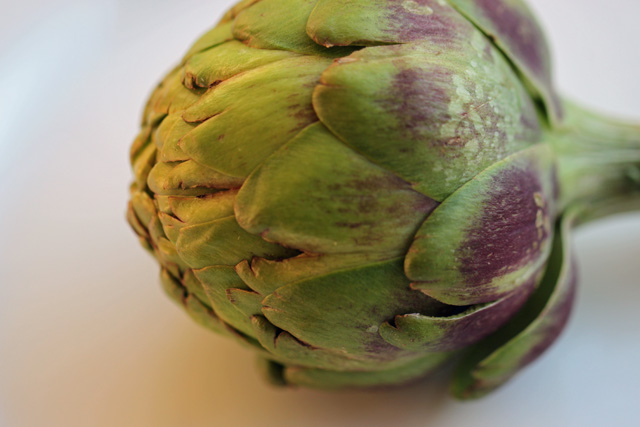 Artichokes are both odd and beautiful, aren't they?
I have until the end of this month to invite artichokes to my house for dinner. I'll report back soon.
Meanwhile, I hope you'll snoop around the new blog. For a few days, you may encounter some broken links in the older posts. I'm diligently working on cleaning those up. As you get to know my WordPress home, your feedback is absolutely welcome!