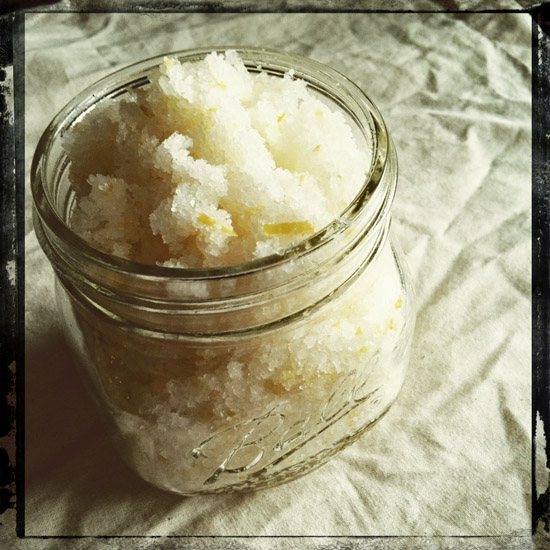 A girl can make only so much marmalade. I love the stuff, but last night, as I was facing another bowl heaped high with Meyer lemons, I reached my limit. When that happens, there's only one thing left to do: Take a bath.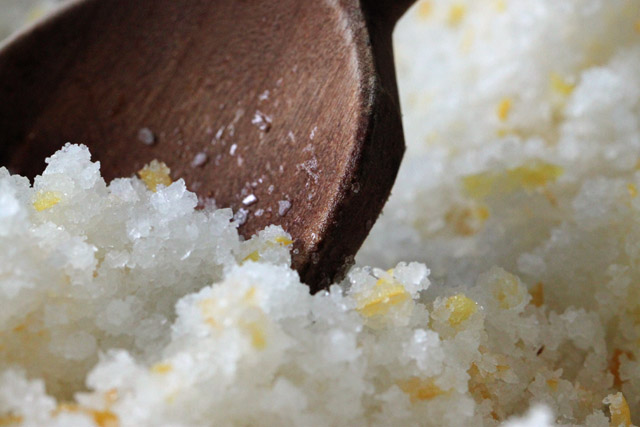 In December, I made the Lavender Sea Salt Body Scrub that Kaela posted at Local Kitchen. I had intended to gift it to others during the holidays, but I was selfish and hoarded almost all of it for myself. It was so good! I knew I wanted to make a big batch with lemon zest when the Meyers came in.
The version I'm posting here is strictly citrus: Meyer lemon with bergamot essential oil. I find it uplifting, but if it doesn't sound like your dream mix, you can follow your nose and invent something new. Homemade body scrubs are super easy to prepare. You start with a simple base of sea salt and oil and then you get to play, adding whatever scents inspire you. You can blend a scrub to suit your own personality: Rose? Ginger? Coffee? Mint?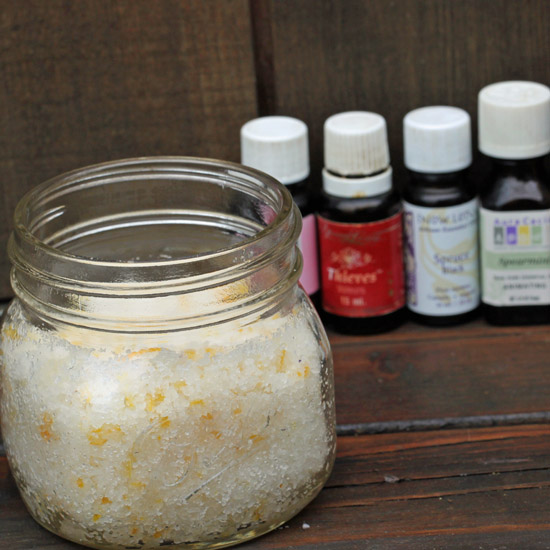 Citrus Sea Salt Body Scrub
2 cups fine-grain sea salt
1/2 cup coarse Kosher salt
3 tablespoons Meyer lemon zest
3/4 cup sunflower oil
40 drops bergamot essential oil
Combine the salts, lemon zest, and sunflower oil in a bowl. Mix well to fully distribute the oil.  Let this mixture sit for about 10 minutes, then come back and adjust the amount of salt or sunflower oil to your liking. (A lot of recipes call for about 1/4 cup more oil than I used here. I prefer a less oily mix, but I still want enough that the salt more or less holds together. I suggest you scoop a bit of it from the bowl and rub it on your forearm. After you rinse, you should feel nice and soft, not icky slick.) Add the essential oil and walk away from the bowl for a while. Do something else. A little later, come back and give it a sniff. If you like it, you're done. If you want to add something else, keep going until it's just the way you want it. Pack your finished scrub into a clean, pretty jar.
Yields about 3 half pints.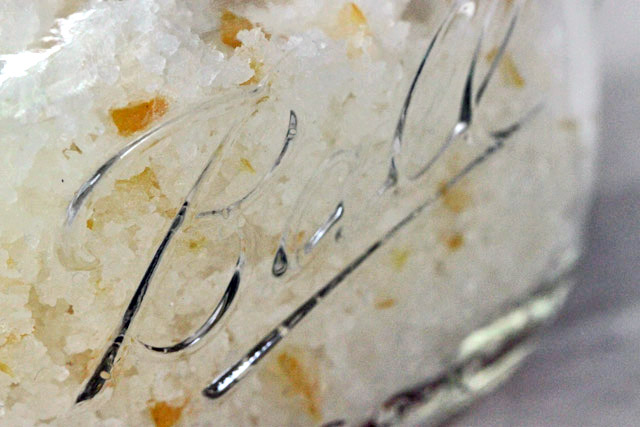 Not sure where to get essential oils? Most health food stores have them, as do larger stores like Whole Foods. I get mine from Juniper Tree in Berkeley. I love visiting the store, where I can browse and sniff and purchase vials of whatever scent and size I like. (It also feels great to bring back my empties and have them refilled on the spot.) Check out their list of scents. Online, there's also wonderful Mountain Rose Herbs.
How to use body scrub. Get yourself into a warm shower or tub. When your skin is well hydrated, scoop a tablespoon or so of scrub out of the jar and apply it to your skin, rubbing gently in a circular motion. Concentrate on the rough spots — elbows, knees, heels. Salt scrubs are too harsh for the face, so skip that. (Also, don't use your scrub after shaving your legs or anything — Ouch!) Dip in for more scrub as needed. When you're done, rinse well. There's no need to soap up afterward.
Now, what do my baby pigeons have to do with body scrub? Not a thing. I'm just so crazy about them that I have to show them off at every opportunity. They figured out how to use their nest bowl in no time. I'm so proud.