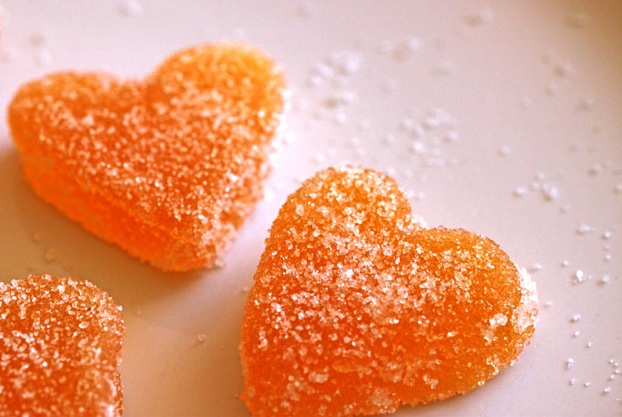 Aren't these cute? It's too bad they suck.
I was so excited to attempt my first pâté de fruit. A couple weeks ago, when I was visiting Austin, Texas, I found a clementine pâté at a little place called Antonelli's Cheese Shop. Borrowing a phrase from Paula Deen: It knocked my socks clean off and into the washer. I bought a piece for myself and a piece to send to Julia, who joined me in raving about it. I came home wondering, "Why can't I make that myself?"
I'll tell you why.
I looked at many recipes before I got started: here and here and here and here, for instance. Most noted very clearly that the results would be softer than commercial fruit pâté. I also saw plenty of comments from readers saying, "I tried to make pâté de fruit once, but I wasn't satisfied with the texture." So what I did was kind of like listening to a bunch of people saying, "I stuck my fork in that light socket and it hurt" before I went ahead and stuck my fork in the light socket. Twice. What you see above is my first attempt (for which I adapted this recipe) and just below is my second attempt (using this method), which did not set at all. It's not even syrup. It's the worst kind of sludge. Even my fetching heart-shaped jellies are way too soft, and I find them completely — guess what? — unsatisfying. The flavor isn't anything to shout about either. It's okay, but nothing like the concentrated astonishment of the clementine pâté I bought in Austin.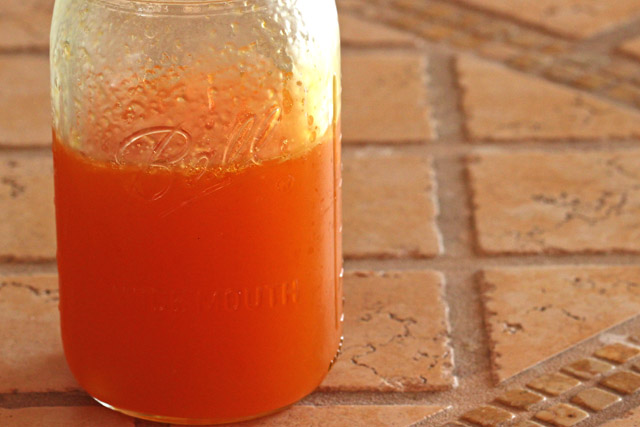 There are recipes out there that explain how to make candy-store-perfect fruit jellies. Kaela pointed me to these Gems at Pastry Methods and Techniques. Marisa noted these lovely Passion Fruit and Vanilla Bean candies from Always Order Dessert. But, despite my tendency to make something I like over and over again until I get it right, I've decided to leave these pretties alone. I don't want to devote so much time to techniques that call for commercially packaged fruit purée (though I'd hope you could substitute homemade), hard-to-find varieties of pectin, corn syrup, and so on. I don't aspire to be a professional pastry chef or confectioner. Now more than ever, I want to use local fruit and keep things simple — with the exception of an occasional, insanely complex marmalade, because we have to do what we love, right? So if you love pâté de fruits and you want to make them yourself, don't do what I did and go sticking your fork in any old light socket. Pay close attention to other people's experiences, do the research, and lay in the supplies you'll need to ensure a good result.
Myself, I'm going to wait until summer and try for an earthier version of fruit pâté. Plums, apricots, peaches, any kind of pomme (apple, pear, quince) — so many fruits can be made into paste or "fruit cheese" by simply cooking them down until they provide a satisfying, toothsome bite. (If only there were a more appetizing term than "paste" or "cheese." Do you know another?) I am still beautifully haunted by the Crab Apple and Wild Damson Cheese posted by Gloria at Laundry, Etc. last fall. If you visit her blog, you can peek under the lid.