This giveaway is now closed. Congratulations to the winner, #10, Wendy Copley of the wonderful Wendolonia!
Last Sunday, I caught up with Kate Payne as she came west to promote her brand spankin' new and beautiful book, [amazon_link id="0062014706″ target="_blank" ]The Hip Girl's Guide to Homemaking: Decorating, Dining, and the Gratifying Pleasures of Self-Sufficiency — On a Budget![/amazon_link] I first met Kate a year ago, when a group of us — jam-making bloggers all — gathered in New York's Hudson Valley for a day of strawberry picking and a summer feast. On that day, when I tasted Kate's home-baked bread, I knew the girl had skills to share. Now you can learn what she knows about bread baking and other homey delights — from cooking to decorating, from entertaining to getting organized — by putting your hands on this very pretty and totally satisfying guide. It will help you make yourself at home wherever you live, without going broke in the process.
Here in the Bay Area, Kate teamed up with the fabulous girls at Blue Chair Fruit, plus special guest Sean Timberlake of Punk Domestics, to host a summer-fresh tea party in celebration of the book.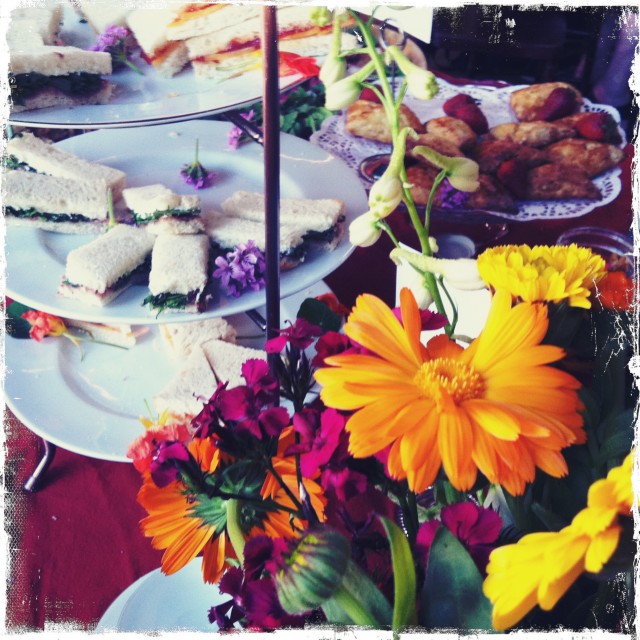 We sipped blackberry-mint spritzers and snacked on marmalade scones. Kate browsed us through her book (something you can do, too, by following this link) and an equally charming second Kate — Kate S. from Blue Chair — demonstrated a hip girl's trick, showing us how to personalize tea towels (many of them thrift store finds) with embroidered touches. We all got to play with fabric and thread.  (I loved this part so much that I stopped on my way home and bought a set of four inexpensive flour sack towels. Tucked away in a cabinet, I have a big collection of embroidery floss, needles, and a hoop, and I'd totally forgotten how relaxing it is to embroider stuff. I was the last guest to leave the tea party, because I was so content sitting in Blue Chair Fruit's beautiful space, practicing my split stitch.)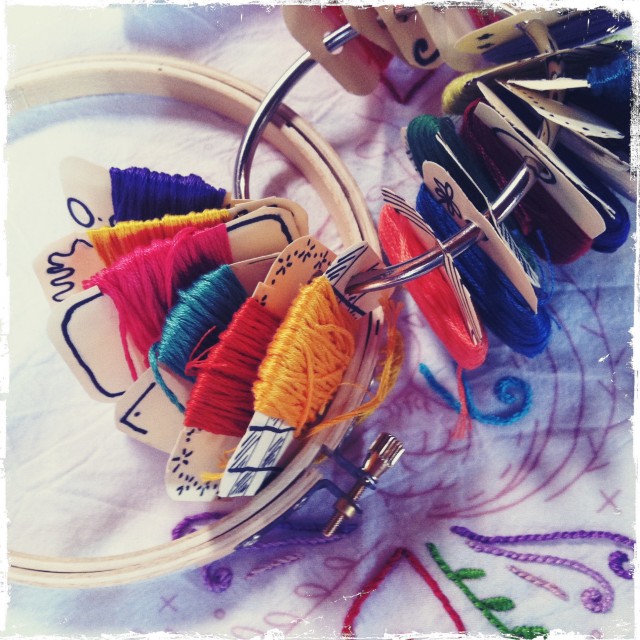 In another impressive act of domesticity, Sean showed us how to add a little pop to our party by making tea liqueur. You might be surprised by how easy it is to do such a thing: Add 6 teaspoons of quality tea to 3 cups of vodka, let it steep for about 10 hours and then strain it with a coffee filter. Add 1 cup simple syrup — that's one part sugar and one part water — mix well and let rest in a cool, dark place for at least a week. Then, drink up. We tasted three tea-vodka blends: genmai cha, jasmine, and Masala chai. There was a lot of ooohing and aaahing over the spicy chai, but I favored the jasmine. So good.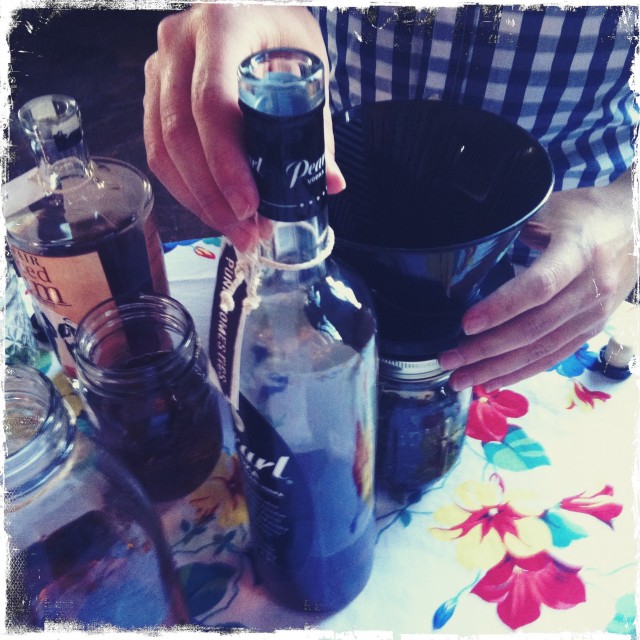 Now, back to Kate's book. Cover to cover, it's a great read — Kate's voice is smart and engaging all the way through. That said, one of the things I love best is that you can let the book fall open to any page and learn something cool. Organizing a spice rack? Got it. Stop killing your houseplants? Check. Foods you shouldn't try to freeze? Kate's got your back. The book even helped me save one of my favorite shirts from something that has ruined far too many of them in the past — the dreaded oily (usually olive-oily) stain. I dampened the spot with cool water, rubbed in a bit of glycerin-based hand soap mixed with baking soda, let it sit a while and — poof! — oily no more. The only thing missing from The Hip Girl's Guide to Homemaking, in my view, is an index. The book contains as much information as a good encyclopedia, and I wish it were easier to put your finger on exactly what you need to know. Maybe in the next edition?

Ready, Set, Win!
Harper Collins kindly sent me a copy of The Hip Girl's Guide to Homemaking and they'd like to do the same for one of you.  (This is the full disclosure part: I didn't buy my copy, but everything I've said here is my real and true opinion of the book.) To take your chance at winning, leave a comment right here by Sunday, June 26th at midnight PST. When you enter, simply tell me one thing you've recently done at home  —  including the garden, of course — that you're proud of. On Monday morning, I will select a winner at random. (Sorry, only U.S. residents this time.)
If you feel like a little more browsing, make yourself a cup of tea and check out The Hip Girl's Guide to Homemaking blog and Facebook page. Both are great ways to get updates from Kate. While you're at it, swing by Hitchhiking to Heaven's Facebook page, too!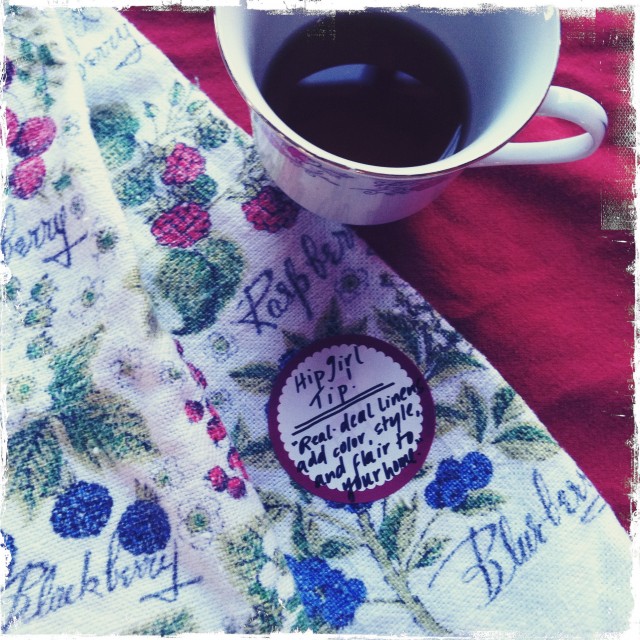 Good luck and see you soon.
June 27, 2011: And the winner is . . .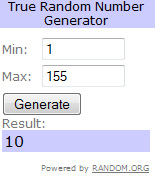 Congratulations, Wendy!