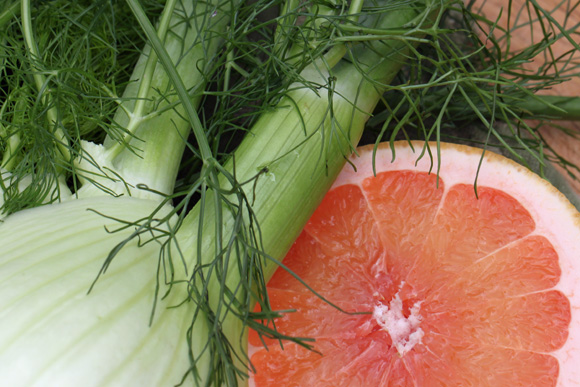 This is a somewhat labor intensive salad. Still, I should have been able to pull it together in less than an hour, not the four days it ended up taking. I got distracted — by fruit, by summer, by the opening of our county fair — which is why my June veggie challenge post is appearing in July. (The veggie challenge is a simple goal I set for myself in January: Learn more about vegetables by making something with a new one each month. Then it turned alphabetical. June was about the letter "F".)
For June, I decided to ask followers of the H2H Facebook page which ingredient to use: fennel, flageolets, fava beans, fried potatoes (I wish), or something else. (Several people suggested fiddlehead ferns, but I didn't think I could find a source.) Fennel finished way out front, so fennel it is, despite the reaction of one of my dearest friends who said, simply, "No. Yuck."
Sorry, Em.
Myself, I didn't know enough to say yuck or yay, because I'd never eaten fennel bulb before. Turns out I liked it. In this salad, adapted from the Moosewood Restaurant Daily Special cookbook, fennel gets together with grapefruit, fresh mesclun mix (that is, mixed baby greens) from my garden, red onion, and a creamy yogurt dressing.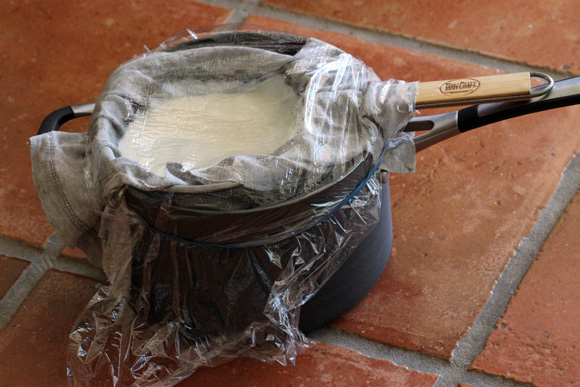 The method of preparing this yogurt seemed fussy to me. It was supposed to be drained and thickened. Did I really have to go to the trouble of suspending a lined strainer over a pot, covering that, and letting it sit for half an hour? Just to make a salad dressing? About that, I have three things to say: First, I thought of the elaborate steps I happily go through to make certain preserves and why those steps are important. Second, I thought I might learn something. Third, I learned something.
The straining step made the watery nonfat yogurt so creamy and wonderful that I thought I might skip the salad and just spread it all over my body. (For what precise purpose, I cannot say. I just felt like it.)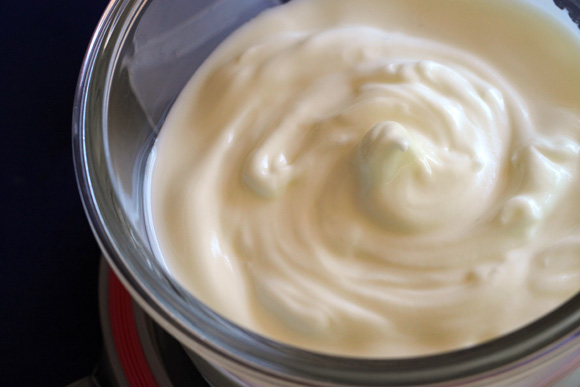 I think the extra time it takes to carefully slice the fennel and onion, cut clean grapefruit segments, and strain the yogurt makes this salad special. It's crisp, sweet, tart, and creamy all at once. Very unusual and very nice. We had it alongside some grilled, grass-fed lamb chops.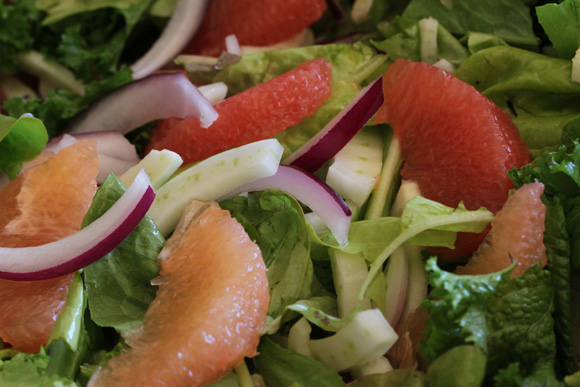 Fennel Grapefruit Mesclun Salad

For the salad:
3 cups mesclun mix (or, really, whatever greens you have)
1 fennel bulb
1/2 red onion, sliced fine
2 grapefruits, supremed into clean segments, with juice reserved (squeeze the juice out of the leftover bits as you work)
For the dressing:
2 tablespoons canola oil
1/4 cup fresh grapefruit juice
1 1/2 cups plain nonfat yogurt, drained and thickened as described below to yield 3/4 cup
1/2 teaspoon ground fennel seeds
1/2 teaspoon ground black pepper
2 tablespoons grated Parmesan cheese
1 tablespoon honey
salt to taste
1. Drain the yogurt: Suspend a strainer in a large pot and line it with a couple of coffee filters or several layers of cheesecloth (or, if you're like me, a clean piece of an old T-shirt). Place 1 1/2 cups of yogurt into the strainer. Cover with plastic wrap and drain for at least 30 minutes in the refrigerator. This should yield about 3/4 cup of thickened yogurt which you can then set aside for the dressing.
2. Rinse and dry the mesclun. Tear it into bite sized pieces and put it into your salad bowl.
3. Wash the fennel bulb, trim the ends, then cut it in half lengthwise. Slice each half into thin semicircles and toss it with the mesclun in the bowl.
4. Top the salad with the red onion slices and grapefruit sections, cover the bowl, and place it in the fridge until you're ready to serve it.
5. In a small bowl, whisk together the dressing ingredients and chill the dressing until serving time.
6. Dress your salad and enjoy it.
More Veggie Letters
A is for Artichoke (Artichoke Soup)
B is for Bok Choy (Soba Noodle Salad with Bok Choy)
C is for Celery (Celery Citrus Salad)
D is for Daikon (Spicy Daikon Carrot Pickles)
E is for Eggplant (Eggplant Caponata)