I felt subdued about entering my preserves in this year's county fair. I'll confess, my confidence was low. It may be because I did well last year — my first year — and I made a big deal about it. What if I went and bombed after I'd gone on about being a prizewinner? I felt shy about the whole thing, and I think that's why I started out taking pictures in black and white.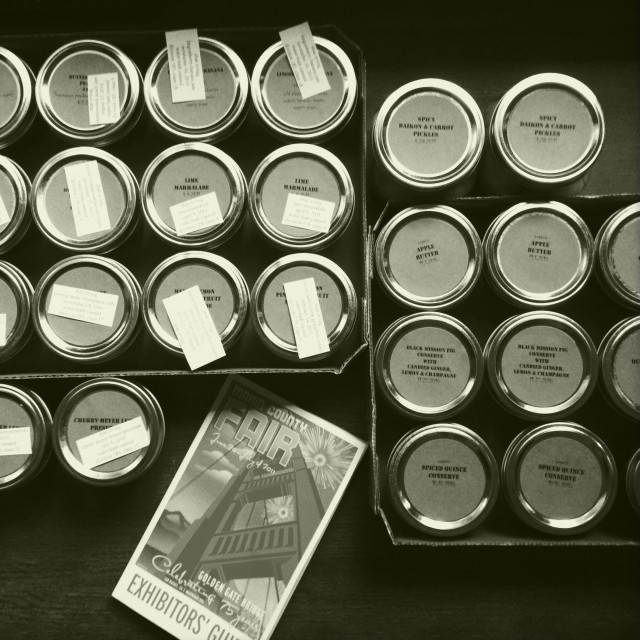 I got my labels finished just in time, and I wasn't entirely sharp about it. When I got my jars back, I found that the label on top of one of them indicated I had canned it in the year 2020. (At least I had correctly dated the label on the bottom — which is the one that counts.)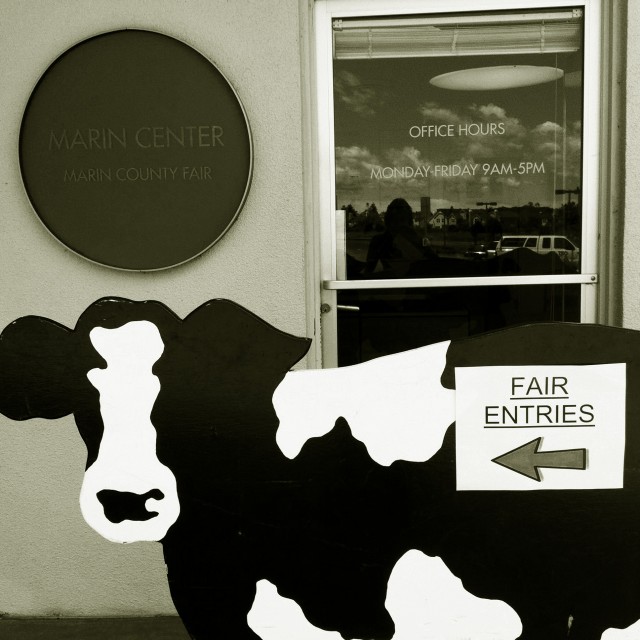 Still, I did my best to follow all the instructions and I delivered my fourteen entries (two identical jars of each, for a total of twenty-eight jars) in the middle of June. Here's another exhibitor turning over her jars to be judged . . .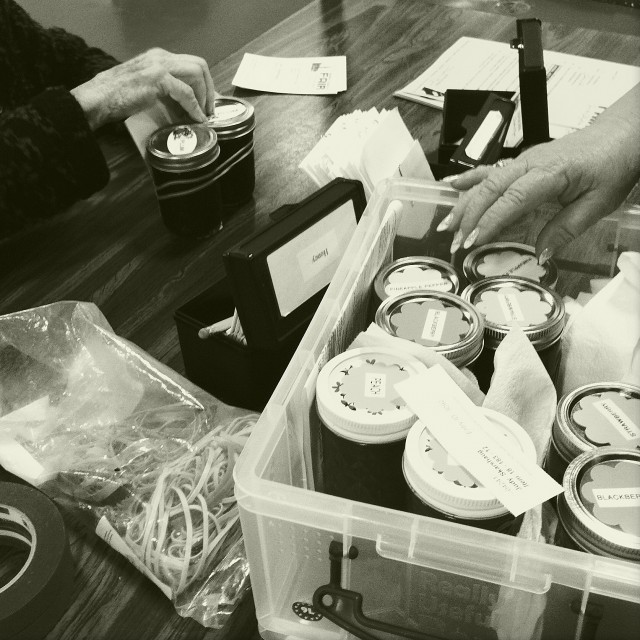 After the judging, but well before we learned the results, I picked up the set of jars that had been opened for tasting. The fair volunteers had sorted the pick-up boxes alphabetically, and I got a box all to myself. (There were people who entered more jars than I did this year. One winning duo entered twenty-two different recipes, for a total of forty-four jars. Wow.)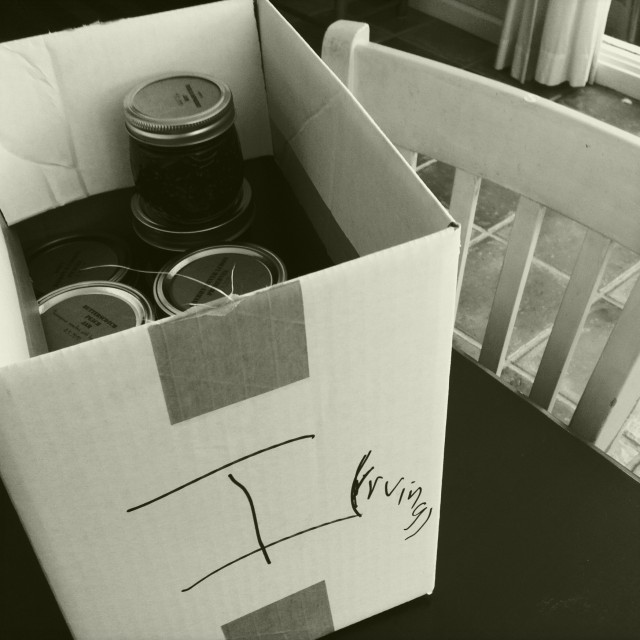 When I got home, I opened a few of the tasting jars in the box. My confidence did not soar.
The first jar I opened was my favorite red raspberry jam, and I saw that the judges had not even sampled it. I also found a hair on top of the jam in the jar. Can you imagine? Only later did it occur to me that it wasn't my hair at all; it was probably the judge's hair. I knew that jar had suffered a partial seal failure. The lid was secured fast, but the button had popped up. Even though the jam was just fine, I wasn't going to get something like that past a judge at the fair, and I'm sure that's why it wasn't tasted. (We ate it up as soon as it returned home. I love that jam!)
Second, I opened a jar of peach jam from a batch that I had spiked with bourbon. Somehow, over the course of the months since I canned it, the jam had lost its set. It also tasted like a distillery. It turned out to be my lowest placing entry and, in the end, the judge was kind enough to put a note on the back of the tag: "Good flavor, too thin." I guess she likes her liquor! (I'm sorry, Judge, if you ever read this. I'm joking, and I am sure you are not a boozer!)
The third jar I opened was my daikon-carrot pickles. I'd forgotten how daikon smells when pickled — funky, like cooked cabbage. I have unofficially renamed them "stinky pickles."
After that, I stopped opening the tasting jars and started holding my breath. I knew there were some good things in that box. There just had to be.
Finally, the big day arrived. Our fair opens on Fourth of July weekend, and that's when we can visit the exhibit hall to search for our results. That's also when I perked up and switched to color photos.
This year, many of you expressed more faith and confidence in my preserves than I myself had, and I want to thank you for that. I discovered that I had won 3 Best of Show ribbons, 2 special awards from Ball, 7 first-place, 3 second-place (including the stinky pickles!), 2 third-place, a fourth-place, and an honorable mention for the skinny drunken peaches. This was far and away more than I had expected.
Here is the list of preserves entered and a tally of how they did. I've provided links to recipes when available.
Marmalades
Meyer Lemon-Pink Grapefruit Marmalade: Best of Show for Marmalades (plus a special award and a first-place ribbon for Mixed Fruit Marmalades)
Margarita Marmalade: First Place, Lime Marmalades
Quince-Orange-Cardamom Marmalade: First Place, Spiced Marmalades
Jams
Lingonberry-Banana Jam: Best of Show for Jams (plus a first-place ribbon in the "Other Jams" class)
Red Raspberry Jam: Fourth Place, Raspberry Jams
Butterscotch Peach Jam: Honorable Mention, Peach Jams
Conserves
Spiced Quince Conserve: Best of Show for Conserves (plus a first-place ribbon in the "Other Conserves" class)
Fig with Candied Ginger and Lemon: Second Place, Mixed Fruit Conserves (this is really a jam that I shoehorned into a conserve class)
Other Sweet Preserves



Cherry Meyer Lemon Preserves: First Place, Other Preserves
Apple Butter: Second Place, Apple Butters
Pomegranate Champagne Jelly: Third Place, Other Jellies
Pickles & Chutneys
Pickled Cherries: First Place, Other Pickled Fruit (plus a special award from Ball for pickles) — these were based on an awesome recipe from Leena Eats.
Spicy Daikon Carrot Pickles: Second Place, Other Pickled Vegetables
Spicy Quince and Apple Chutney: Third Place, Apple Mix Chutneys
Whew!
There's a lot more I'd like to say about my experience at the fair this year, but this post is getting too darned long. I have just a few tips to add to last year's list, like if you've got long hair, for goodness' sake pull it back when you're jamming. (What if that wasn't the judge's hair?) And it's a good idea to keep a third jar of jam in reserve that you can open and taste before you send your jars off to the fair. (I'd have caught the distillery jam that way.) And you can minimize the risk of seal failure by being sure to use jars and lids from the same manufacturer. (My failure was a Ball lid on an older Kerr jar. They aren't always identical.) But mostly I guess I'd say, jeez, relax, it's just jam! (We teach what we need to learn.)
The other thing I'd like to do at some point is write a little bit about how I choose and/or develop recipes for the fair. Occasionally I use previously published recipes exactly as they were written — a common practice for fair participants — but mostly, as with each of the marmalades, I enter my own creations. The recipes I choose affect whether and how I can publish or share them on the blog. If you're curious about that subject, Marisa at Food in Jars just wrote a helpful post on how to make a recipe yours and over at Punk Domestics, you can find a great article on recipe attribution.
Now, I'll just grab your hand and drag you down the midway, so we can get a Sno-Kone.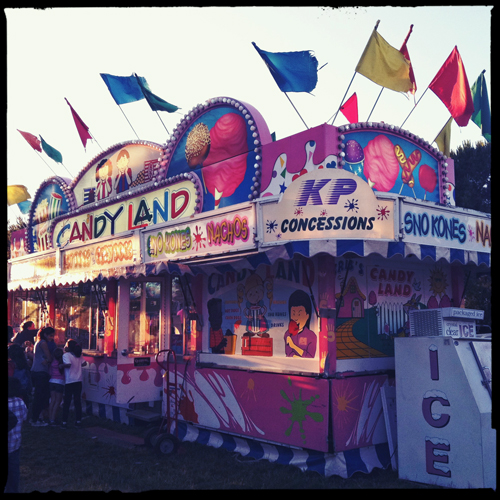 And take a ride in a giant spinning bear.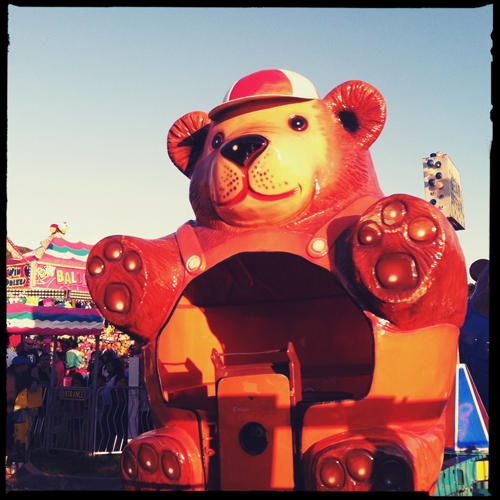 And learn the parts of a goat.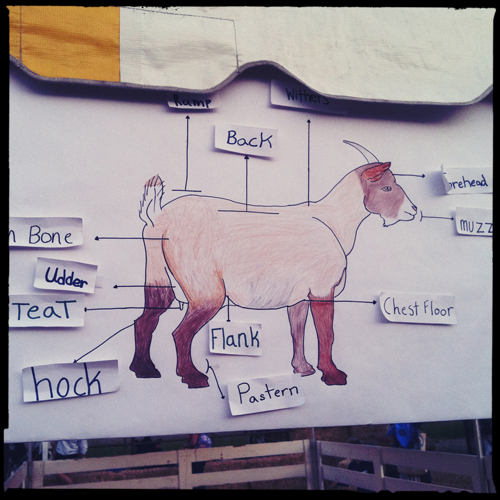 And wish together that we could free the unhappy, fuzzy bunnies from their cages. (I'm glad our fair is short so the animals don't have to stay too long.)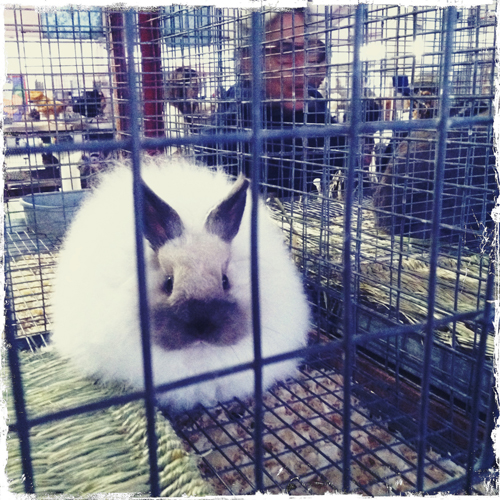 I'd also like to show you this: I wasn't the only one in my family to do well at the fair this year. My mom entered for the first time and she won four ribbons for her plants, including Best of Show for a beautiful red begonia. This is her first-place winning jade plant.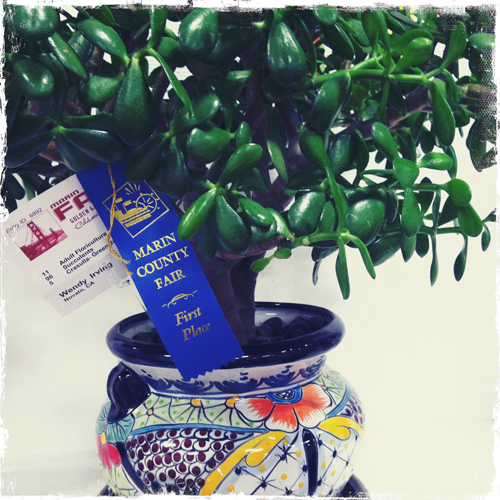 Yay, mom!