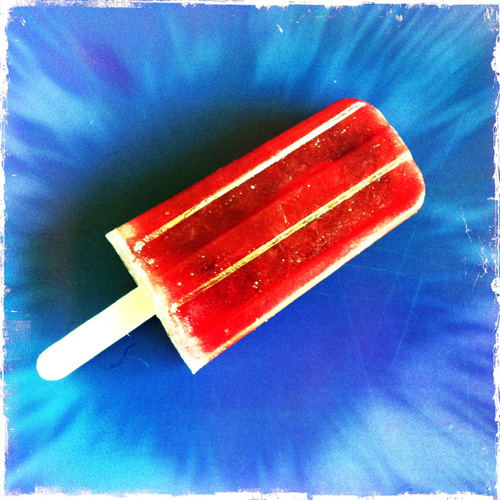 For the past few days, I've been experimenting with recipes for jams that don't contain refined sugar — just crushed fruit, sweetened with concentrated fruit juice and jelled with Pomona's Pectin. On Saturday, I made a successful "sugar-free" cherry-blueberry jam, and I'll share that here soon. Today, I want to quickly show you what happened to my sugar-free apricot-cherry jam that didn't set.
This summer, I've been seeing some nice frozen treats on my favorite blogs, like Local Kitchen's cranberry orange rhubarb pops — with tequila, of course. I thought, "Hey, why not use my runny jam for something like that?" I emptied a couple jars of soft jam into a big measuring cup, diluted the mixture with water until it was a consistency I liked, added a few teaspoons of sugar (I couldn't resist), and poured the finished blend into my popsicle maker. (I use [amazon_link id="B0002IBJOG" target="_blank" ]this one[/amazon_link] from Norpro.)
I'm glad to have another way to use jam that doesn't set, and I'm already thinking of other popsicles I'd like to try this summer. Margarita marmalade pops. Strawberry orange. Blackberry lime. The possible experiments — including occasional boozy add-ins — are endless.
I had been feeling kind of bad about how many loose jams I have in my pantry, but now I'm looking forward to a summer of jamsicles.