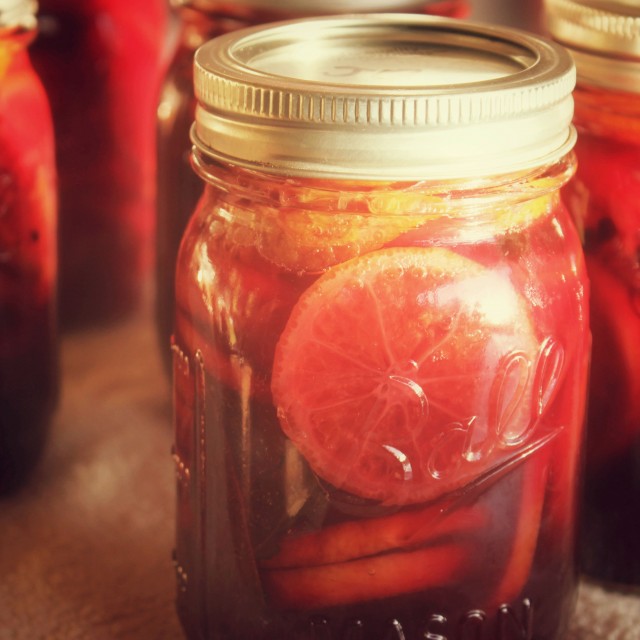 The Rangpur limes are here. My mother's tree was not as productive as last year, yielding 40 pounds of fruit instead of 100. But that's still a lot of Rangpur limes. I kept ten pounds for myself; the rest went to other good homes. Kaela came to San Francisco to visit and packed some home in her luggage. I was thrilled that she used them to invent a honey-sweetened Rangpur lime preserve — very much like a marmalade — for those of us who want or need to avoid refined sugar. It contains hot peppers, too, cuz that girl is an unstoppable chile head!
I also delivered a great big box of Rangpurs to my friend Merrilee Olson at PRESERVE Sonoma, who used them to teach a citrus preserves class yesterday. I can only hope that today there are happy little jars of Rangpur jam all over Sonoma County. (PRESERVE Sonoma is Merrilee's beautiful baby, the new incarnation of CAM FoodWorks. She helps local farmers make good use of surplus produce by turning it into unique preserves. I just set up PRESERVE Sonoma's new Facebook page, and I think what Merrilee's doing is well worth following.)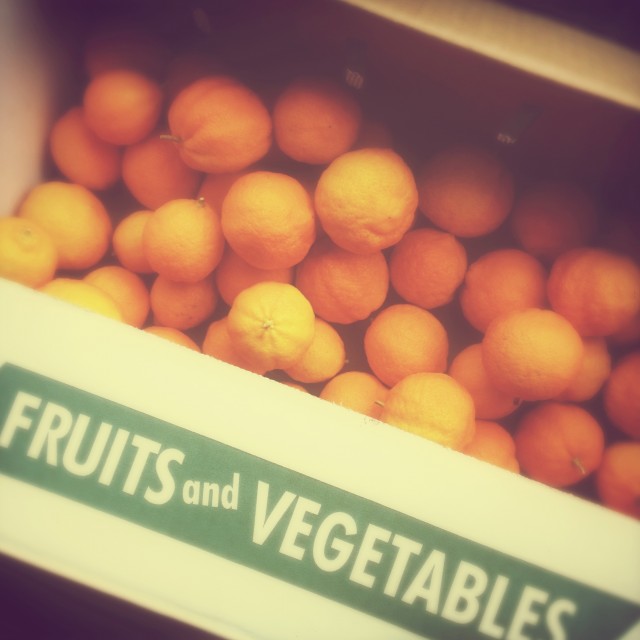 My challenge this year is to preserve my part of the super-sour Rangpur haul without sugar. Certainly I'll make a batch of Kaela's preserves. I'm also going to preserve some in salt, as Autumn Made and Did did last year.  But I found something  new to try, too.
Merrilee introduced me to a lovely book called The Preservation Kitchen, by Paul Virant. The book includes a section on aigre-doux — "sour and sweet" or bittersweet preserves. They're made with wine, vinegar, spices, and something sweet. Virant sometimes uses honey instead of sugar, so that's what I did here. And aigre-doux is not just for citrus. There's blueberry, cranberry, pear, grape, you name it — a whole new world!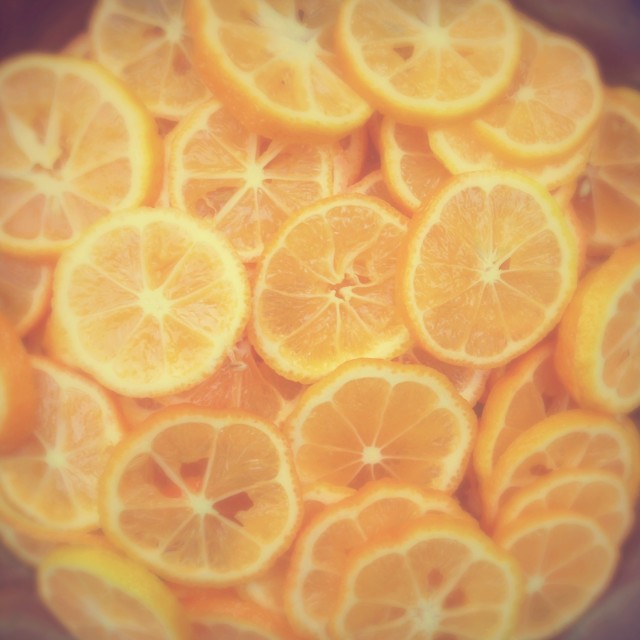 Still, I really have no idea what I'm doing, using Rangpurs for this — we won't know for another month or so how well it turns out. If you want something tried and true, you can use Meyer lemon wedges, mandarin orange segments, or other types of oranges. (You'll have an easier time putting your paws on those fruits, anyway.) I'm sure using Rangpurs will make this preserve much more sour than sweet, but I had to try it anyway.
One peeve about the mandarin aigre-doux recipe in Virant's book: It calls for peeled, segmented mandarins, but the photo shows sliced rounds including the peel. Don't cookbook editors think we rely on the photos that accompany a recipe? It's confusing! Still, it was that mixed-up photo that led me to slice my Rangpurs this way, so I can't complain too loudly. For what it's worth, his Meyer lemon aigre-doux uses lemon wedges, including the peels. There are lots of ways to do this.
I also experimented with spices. For Meyer lemons, Virant uses bay and thyme. To mandarins, he adds black peppercorns. (Here's an interview with Virant that contains his mandarin aigre-doux recipe and a video of him making the preserve. He seems like a nice guy!) For these Rangpurs, I put a bay leaf in every jar, but after that I let my nose guide me. (Truly, I took a Rangpur slice in one hand, opened my spice cabinet with the other, and started sniffing.) I ended up with juniper berries in a couple of jars, cracked cardamom pods in another, a fourth with coriander and black peppercorns, and the final jar with cinnamon and clove. You can also change up the type of wine, depending on the fruit.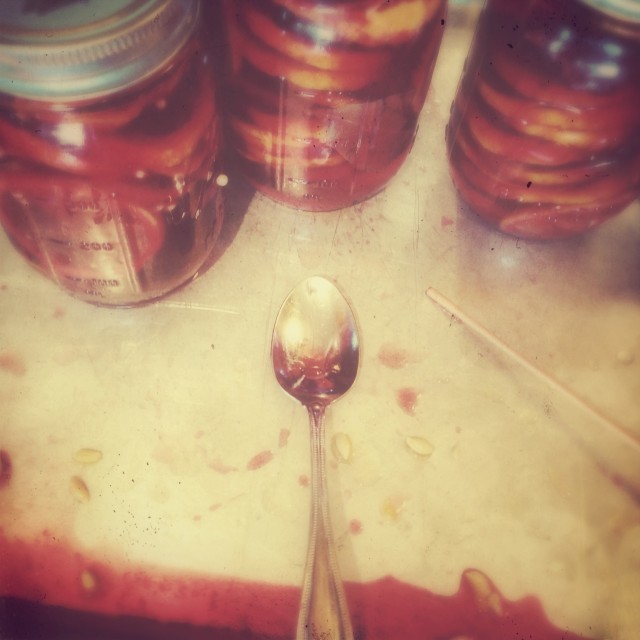 There's a lot you can do with a preserve like this. Some suggestions I liked were pureeing the citrus with the liquid to add to salad dressings or sauces, or dicing the fruit to add to a relish. Because Rangpurs are traditionally used to garnish meat dishes in some cultures, it's no stretch to imagine combining pureed aigre-doux with reduced wine or butter to dress up a simple supper. Even I could do that!
Rangpur Lime Aigre-Doux
3 1/2 pounds Rangpur limes
2 3/4 cups Merlot
1 1/4 cup plus 1 tablespoon Champagne vinegar
1 cup honey
1 teaspoon kosher salt
bay leaf
juniper berries or other spices as inspired
1. Put 5 regular-mouth pint jars in your water-bath canner and bring the water to a boil. (You can use wide-mouth jars, but regular-mouth jars will help to hold the fruit under the brine.) Turn off the heat and let them sit until you're ready to use them. Place the jar lids in a small bowl, cover them with simmering water, and let them sit, too.
2. Wash the limes and slice them into rounds of uniform thickness, removing and discarding the seeds as you go. Mine were 1/4-inch thick, more or less. (I composted the butts.) One of the advantages to slicing the Rangpurs into rounds like this is that it's fairly easy to pop out the seeds.
3. In a medium-sized saucepan, combine the wine, vinegar, honey, and salt. Bring the brine to a gentle boil and keep it hot. (I had to skim some foam off the liquid before using it.)
4. Removing one jar at a time from the hot water, pack it tight with fruit slices, a bay leaf, and your spices of choice. (I used about 8 juniper berries per jar, but as I said, the spices are an experiment.) Cover the fruit with brine, leaving 1/2-inch headspace. (Rather than fussing with a funnel, it's easiest to do this by pouring the brine into a measuring cup or other easy-pour pitcher.) Use a chopstick to release any air bubbles, add more brine as needed, wipe the jar rim, and secure the lid. Repeat for each jar.
5. Process 15 minutes in a water-bath canner.
Yields 5 pint jars.
P.S. I used an organic Merlot from Bonterra Vineyards for this recipe. Dry red or white wines are allowed on GAPS and the SCD! And I've always had an easier time with organic wines than conventional. Organic doesn't make my face hot, red, and itchy. Whew.