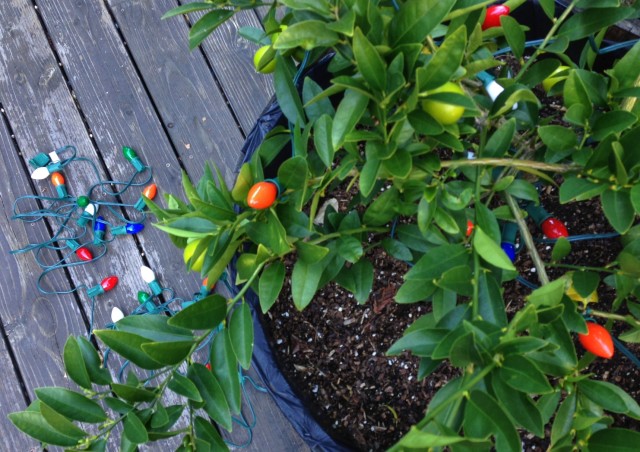 I want to say it's going to get crazy cold here, but I know that's going to make a bunch of people either laugh or get irritated. Oh well. This is California. When temps drop into the 30s, it's all over the news.
Also, this weather app estimates temps for some part of Fairfax that's warmer than our house. When it says 36° or below, I know we'll get frost. Last year, we had so many frosts and freezes that I got all tuckered out from dancing with giant covers for eight different trees — seven citrus and a baby apricot. Put them on at night, take them off in the morning, put them on at night, take them off in the morning, repeatedly obsessing about whether or not it's going to get cold enough that I have to drag my butt outside in the dark to put them on at night, take them off in the morning.
Every year I read about protecting trees by stringing them with Christmas lights and I think, I want to try that, but then I'm too lazy to make it happen. This year, I decided that one burst of focused energy would be better than all those gyrations with the covers, and it's on. I went out and bought seven boxes of [amazon_link id="B002SDA4T4″ target="_blank" ]outdoor-rated C7 lights[/amazon_link]. To give off enough heat, they have to be old-school, energy inefficient C7 or C9 lights, not LED lights. I strung them in all of my vulnerable trees, being sure to concentrate the bulbs around the trunk and in the lower branches. That way, the trunk is protected and the rest of the tree will catch the rising heat.
To protect the plugs from rain, I cut up plastic bags and used electrical tape to secure the plastic around each exposed plug and socket. (Not that we're getting any rain, but that's mostly a another story. The relevant part here is that, if it hasn't been raining, remember to water plants deeply if a frost or freeze is expected. It's one of the best things to do to keep them safe.)
There's some risk to this experiment. A few of the citrus trees got confused by our unusually warm fall and went into furious bloom. I'm ready to accept that many of those blossoms won't become fruit. Overall, I figure there may be some damage to the trees, but not death. And if we go into a prolonged period of hard freeze — say, a week or more — I'll bring out the covers.
The other thing I'll need to watch is our electricity bill. If it skyrockets, this will be a single season event.
Meanwhile, it's very cheerful!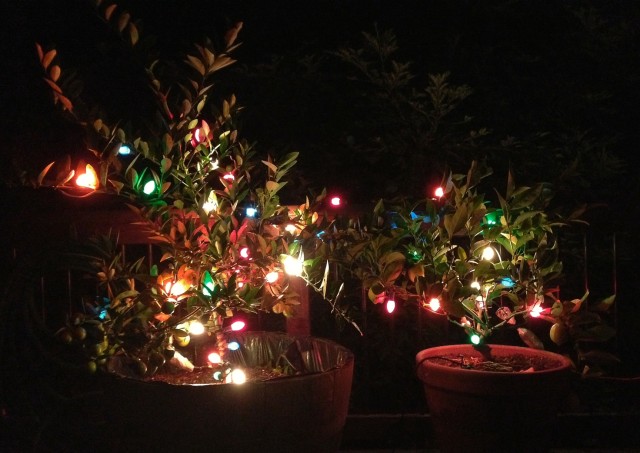 P.S. The other garden-related task I completed this week is reconditioning three pairs of sad and rusty pruning shears and snips. (That was another thing I'd put off for a long time. Now that it's done, I'm very pleased and proud.) I followed these instructions from Weekend Gardener, which I found to be clear and easy.