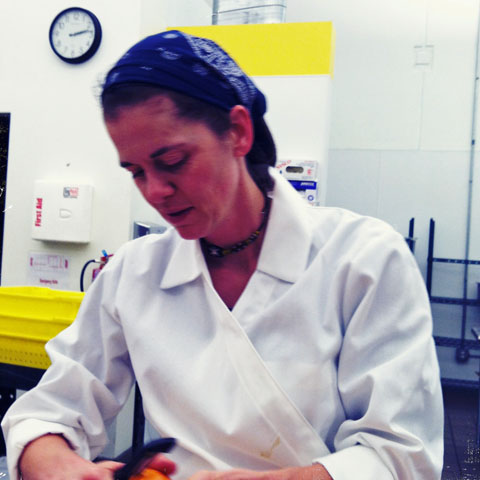 When I started this blog in 2007, I had no idea it was going to be about fruit. I chose the name "Hitchhiking to Heaven" because I had planned to write about the quirky, unexpected stuff we encounter along the road to a thoughtful, satisfying life. As it turned out, what I encountered along my road was jam — and a lot of it.
I discovered that I love to make sweet preserves — learning all I can about putting up fruit and sharing what I learn with you. And this has taken me places I never expected to go. First, my jams and marmalades won a bunch of ribbons at our county fair in 2010 and 2011. Then the local paper stopped by to talk and take pictures of me standing over my canning pot. I got to judge preserves at the Bay Area's Eat Real Festival. Even a New York Times editor took notice of my nice quince marmalade. When I think that, not too long ago, I was scared of my own kitchen, it makes me laugh — in a delighted way.
If I had to say one thing about why I think the traditional art of food preservation is relevant in the modern world, it's because it has the potential to reconnect us with beauty and the cycles of nature that sustain us. There's a poem by Robert Hass called The Beginning of September that contains these lines:
the sayings of my grandmother:
they're the kind of people
who let blackberries rot on the vine
I hope never to be that kind of person. For me, making preserves is a way to pause and pay homage to the tender abundance that surrounds us.
And why blog? I've always been a compulsive chronicler of things that I do, see, think, or love. (I started keeping a journal in the third grade and never stopped.) It doesn't matter whether it's words or pictures, I need to record what catches my attention as it passes by, and I love to share. Having this blog has led me to so many wonderful connections and friendships, so I mean it when I say I'm glad you're here.
If you have a question about a recipe or just want to say hello, feel free to send me a note. Over on the right, you'll find a link you can use to send me an email.
Thanks for visiting.